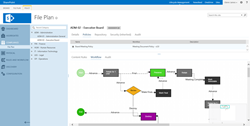 Vancouver, BC (PRWEB) January 15, 2016
Collabware today announced the general availability of the next generation release of Collabware CLM and the launch of Collabspace, a new team collaboration and SharePoint integration service for Outlook. The combination of these products offers customers the most comprehensive Enterprise Information Management solution available for the SharePoint platform.
Collabware CLM 2016
Collabware CLM 2016 expands on its existing electronic and physical records management capabilities with the addition of new case management, workflow, and search features designed to support the complete lifecycle management of all SharePoint content and processes. Users of Collabware CLM 2016 can now construct workflows that handle all aspects of case and content lifecycle, including facilitation of complex actions and dynamic events. Using an easy-to-use SharePoint-integrated visual design canvas, the new workflows can be created without need for coding, and can be deployed without need of administrative assistance.
"Our previous releases of Collabware CLM excelled at protecting and managing information assets," says Stacey Hunt, VP of Product at Collabware. "With this new release we aim to not only continue protecting information, but to also help customers increase employee productivity through enhanced content findability and business process automation."
Collabspace
Collabspace is a new cloud-service offering that enables internal and external teams to collaborate in real-time without having to leave Outlook. Using Collabspace, users can create collaborative messaging spaces as a replacement for email conversations, and can retrieve or file content within SharePoint using familiar drag and drop techniques. When not using Outlook, users can continue to access their collaborative messaging spaces from web and mobile devices regardless of their location.
"Collabspace represents the beginning of a series of product offerings aimed at helping employees collaborate more efficiently and make better decisions with the aid of intelligent automation," says Graham Sibley. "In the very near future, customers using Collabspace will be able to consume intelligently curated, contextual streams of information sourced from all their repositories, and they will have access to this information from any device."
About Collabware
Collabware provides intelligent information management and team collaboration software designed to make teams more productive, protect high-value information, and help organizations rapidly locate the information they need to make better decisions. Our software has been widely deployed by companies in regulated industries, including finance & insurance; mining & natural resources; government; healthcare & pharmaceutical; manufacturing, utilities & transportation; and entertainment & education. Spanning North America, Australia, Europe, Asia and Africa, our customers range in size from small public-sector organizations to Fortune 50 enterprises.