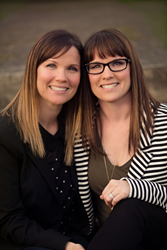 To us, real estate is more than selling or buying houses. It is about helping people find just the right place to call home in that perfect community for them. It is about building relationships.
Mill Creek, Washington (PRWEB) January 16, 2016
Seattle's Top Giving Real Estate Agents Announce New Community Initiatives for 2016
Leading Snohomish County Real Estate Agents Launch 2 New Events to Support Nonprofits and Local Small Business in 2016
Twin Realtors and social entrepreneurs Lyndsay Lamb and Leslie Davis are partnering with local small business owners to celebrate National Frozen Yogurt Day on February 6th, and with a local Seattle area shelter for National Read Across America Day on March 2nd, 2016.
February 6th, the Lyndsay Lamb Real Estate team will be on site at World's Tastiest Frozen Yogurt for a 1 hour free frozen yogurt giveaway to all that show up between 12 noon and 1 pm. While the frozen yogurt flavors are updated every few weeks visitors can expect to experience vanilla custard, caramel, chocolate, sorbets, barista prepared coffee, and deluxe cupcakes. On March 2nd the team will be donating books to the Everett Gospel Mission: Women's and Children's center. The mission is the largest of its type in Snohomish County, and its surrounding counties, and has been serving the community for 50 years. The team will be donating books for children ages 2 through 8, and inspirational books for women.
Washington State property specialists the Lyndsay Lamb Realty team, who work out of the Mill Creek RE/Max office, have been consistently ranked among the top agents in the region for years. The twin duo, and exclusive buyer specialist Ericka Hardwick, sold almost 100 homes last year, putting them in the top 1% of Snohomish County Realtors (out of 1,879). The team was responsible for almost 40% of the sales of their entire office.
Seattle Children's Hospital recognized the team as the Top Giving Agents of 2015. A portion of every commission on homes bought or sold with Lyndsay Lamb Real Estate is donated in the name of the client to Seattle Children's Hospital through a partnership with the Children's Miracle Network and this RE/MAX Miracle Agent team.
Lyndsay Lamb says "we expect to be able to do far more for the community and Children's Miracle Network over the months ahead, as the year is already shaping up to be stronger than last, with multiple real estate transactions closing in the first few weeks of 2016."
That sentiment is backed up by multiple analysts and reports, including TIME Money which pegs Seattle as one of the top growth markets on the planet over the next 11 months. Zillow currently ranks Seattle as a hot buyers' market, and forecasts home value appreciation of 6.6% by November 2016. Housing Predictor is even more bullish; ranking Seattle no. 4 for appreciation in 2016 at 14.9%. The Urban Land Institute's Emerging Trends in Real Estate survey moved Seattle, WA up four places to being the 'fourth hottest market to watch for 2016'. The Puget Sound Business Journal says "Seattle's commercial real estate market is hotter than San Francisco and New York." A new Association of Foreign Investors in Real Estate survey reports Seattle is one of the top 5 favorite destinations for international investors in 2016.
As witnessed by the two upcoming events, Lyndsay and Leslie see more transaction volume as not only an opportunity to help the Seattle Children's Hospital, but to do far more. Lyndsay says "for us it's about taking the opportunities we are given, and making the most of them, through whatever we can do to serve others and grow the community!"
"This is more than just words or an attempt to gain publicity or prop up their brand. In fact, those living in the Mill Creek area, and throughout Snohomish County and King County, WA have likely already witnessed this dynamic duo in action, even if they didn't realize it. In fact few seem to have mastered the art of blending business and benefiting the community for good as these social entrepreneurs. Just a few of the recent initiatives they have engaged in over the last six months have included; donating over 10% of their annual sales to local charities, collecting lipstick, nail polish, and scarves to donate to the women's shelter in Everett, serving dinner at the Snohomish Food Bank, packing backpacks for foster children, and volunteering at Mill Creek's annually Holiday events," said Karim Khoury, Owner of ReMax Mill Creek.
If there is an ethos to these women entrepreneurs' work it is "leadership is service." Sometimes that is carving out the time to give, and at other times it is just going above and beyond for clients in a pinch; like the time the team ended up unloading a moving truck for a client in heels because the client was in a rush to ship out on deployment overseas.
Find out more details about the upcoming yogurt shop and book giveaway events and how to participate online via Facebook or LyndsayLambRealty.com.
Lyndsay Lamb Real Estate- http://www.lyndsaylambrealty.com
Children's Miracle Network- http://www.lyndsaylambrealty.com/childrens-miracle-network-hospitals/
Worlds Tastiest Frozen Yogurt- http://www.worldstastiestfrozenyogurt.com/
Everett Gospel Mission- http://www.egmission.org/
Emerging Trends in Real Estate - http://www.seattletimes.com/business/economy/a-hot-2016-for-seattle-real-estate-jon-talton/
Housing Predictor 2016 Emerging Markets - http://www.housingpredictor.com/best-real-estate-housing-markets/
Association of Foreign Investors in Real Estate- http://www.bizjournals.com/seattle/morning_call/2016/01/foreign-investors-interest-in-seattle-real-estate.html
Time Money- http://time.com/money/4162714/predictions-for-the-2016-housing-market/
For further interviews and media requests contact:
Lyndsay Lamb
Email: Lyndsay.Lamb(at)ReMax.net
Phone: 425.220.5103