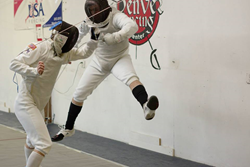 With a 15,000 square foot location in the heart of Denver, we plan to further expand the sport of fencing in Colorado.
Denver, CO (PRWEB) January 19, 2016
The Denver Fencing Center (DenverFencingCenter.com) ("DFC") has purchased its building and the surrounding land at 1930 South Navajo Street in Denver. According to DFC head coach Nathan Anderson, "We're very excited about the purchase of our building. With our nearly 15,000 square foot location in the heart of Denver, we plan to upgrade our facility and enhance parking availability, which will serve our current members and further expand the sport of fencing in Colorado. We encourage people of all ages and abilities to come check out this exciting sport."
Founded in 2004 with 17 original members, the Denver Fencing Center has grown to over 200 current members, making it one of the top 5 clubs in the nation as measured by US Fencing Association membership. In addition, the Center offers 30 different classes per week for all ages and levels of ability at its permanent location as well as enrichment classes at over ten area schools.
Last season, DFC fencers captured 35 National medals, including 8 gold medals. Every year, DFC high school fencers receive admission to top prestigious universities. This December was no different as DFC students received early acceptances to the Wharton School at University of Pennsylvania and Northwestern University, amongst others. "But don't think it is all kids' play," Coach Anderson says, "I believe that we have the strongest Veteran (over 40) population of fencers in the country. Recently, our newer Veteran women like Eileen Foley (sabre) and Valerie Hutchinson (epee) have been leading the way with their multiple National medals. Many people enjoy this sport later in life because it builds leg strength and it is easy on the knees and back."
The Denver Fencing Center is located next to main entrance of Ruby Hill Park in Denver. The Ruby Hill Park neighborhood is becoming a major destination for sports and entertainment. Along with the Denver Fencing Center, Ruby Hill Park Neighborhood also features Overland Golf Course and dedicated facilities for boxing, parkour, Ultimate Frisbee, and baseball. In 2016, the city of Denver is developing a mountain bike terrain park inside the park, and in 2017 the Levitt Pavillion is expected to open and produce 50 free concerts each year at its outdoor amphitheater.
DFC President Karli Anderson commented, "Along with all of the other attractions in the Ruby Hill neighborhood, the Denver Fencing Center's upgraded facility will help to revitalize and enhance the neighborhood. We look forward to partnering with other organizations to offer more programs inside Denver Fencing Center."
If you ever want to fence, secure a spot in DFC classes and summer camps, please register online at http://www.denverfencingcenter.com or call 303-922-7288.
About the Denver Fencing Center
The Denver Fencing Center, located at 1930 S. Navajo Street, is Denver's only 3-weapon fencing club, offering classes in foil, epee and saber for little fencers, youth, teen and adult and summer camps.