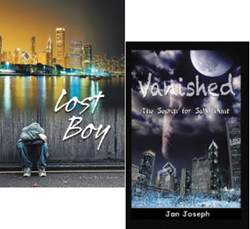 "These books run the gamut of genres, from mystery to suspense and the paranormal. We are thrilled to be the publisher." - Robert Fletcher, CEO of Strategic Book Publishing and Rights Agency
(PRWEB) January 21, 2016
Jan Joseph has written two exciting mysteries that will enthrall readers, "Lost Boy" and "Vanished: The Search for Sally Hunt."
Her latest novel, "Lost Boy," is about a parent's worst nightmare. Chicago author Jackie Steinway opens her door to find a scruffy-looking man wielding a gun and demanding her young son, Max. After the boy is kidnapped, he's forced to assume a new identity in a new location with another family.
An anxious search begins for the kidnapped child. Jackie and her husband, actor Jeff Stanley, work with police to find the kidnapper. Readers are introduced to police detectives Jane Peters and Jimmy Reardon, FBI investigator Tom Avalon, psychic Susan Nelson, and private investigator George Nicholas. Will they be able to find Max?
Characters from the author's first book, "Vanished: The Search for Sally Hunt," help bring this gripping detective story to life.
It's no mystery why "Vanished: The Search for Sally Hunt" is a winner. This earlier book by Jan Joseph concerns the disappearance of a young woman who is shrouded in mystery. Police searching for her find nothing but hidden secrets from her past.
Sally's past includes acquaintance with a psychic who works with the police to find missing persons. So when Sally disappears, a psychic is called upon to help.
Just who is Sally Hunt and why has she "Vanished?"
Watch the video at: https://www.youtube.com/watch?v=8GM1SuflhnQ
LOST BOY (ISBN: 978-1-68181-300-4, $17.50) and VANISHED: THE SEARCH FOR SALLY HUNT (ISBN: 978-1-62857-877-5, $16.50) are now available and can be ordered through the publisher's website:
http://sbprabooks.com/JanJoseph or at Amazon.com or Barnesandnoble.com.
About the Author: Jan Joseph, a graduate of the University of Illinois at Chicago, taught school for several years before entering the nonprofit world, where she is executive director of a national physician association.
"These books run the gamut of genres, from mystery to suspense and the paranormal. We are thrilled to be the publisher," said Robert Fletcher, CEO of Strategic Book Publishing and Rights Agency.
WHOLESALERS: These books are distributed by Ingram Books and other wholesale distributors. Contact your representative with the ISBN for purchase. Wholesale purchase for retailers, universities, libraries, and other organizations is also available through the publisher; please email bookorder(at)sbpra(dot)net.