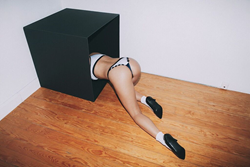 Los Angeles, CA (PRWEB) January 18, 2016
Newly launched Lisbon-based fashion brand Pixel Panties debuts its first patented design pantie collection in the USA with sexy selections featuring designs based on computer graphic pixelation. The launch collection is an inspired fashion take on the ever-growing influence of video gaming with the panties offered in various colors including Classic Pong White and Mario Fiery Red. Each pair in the collection is laser cut from finely wrapped and circular-knitted European fabrications of superior comfort and manufactured with exceptional care in Portugal.
In its dedication to sustainable and social responsibilities, Pixel Panties takes pride in going above and beyond other brands. With every product, the brand takes into account the entire life cycle of the pieces from its carbon footprint to the livelihoods of the people who manufacture them. Equal considerations are given to manufacturing free of child labor, a respect for workers' wages and rights, meeting environmental standards and even allocating a portion of the sales to the Malala Fund to help empower girls through education. The Pixel Panties collection is available from $19.99 up at http://www.pixelpanties.com
Founded by self-proclaimed geeks and gaming enthusiasts, designers Cesária & Sebastião conceived the line that blends the best of design and functionality with artisanal flair, social and ecological awareness for a line that reflects everything consumers would look for in a thoroughly modern and relevant fashion brand.