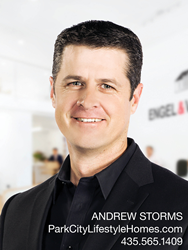 People visit Park City for the winters but live here for the summers
Park City, Utah (PRWEB) January 20, 2016
Announcing a lifestyle real estate company specifically designed to assist home buyers looking to purchase property in Park City and Deer Valley, Utah: Park City Lifestyle Homes. Whether the prospective buyer's are using 3rd party apps such as Zillow or Realtor.com, Park City Lifestyle Homes picks up the ball where these apps fall short: Andrew Storms provides in-depth, feet-on-the-ground information for a market which is incredibly dynamic and segmented.
This real estate company will provide updated information about Park City real estate and Deer Valley real estate from ski-in condo and town home units to detached residential homes and mountain side estates. Park City Lifestyle Homes will boost the real estate market in the city considering that it is already an attractive market for international buyers requiring VIP service with anonymity due to the area's massive potential. It is important to note, with the influx of 50,000 visitors expected for the Sundance Film Festival this season, it is often a very difficult time to view properties unless searching residential real estate.
Residential Park City real estate and Deer Valley real estate provides strong driving power in the local market. The area has the most sought-after elementary schools in the state of Utah. Park City's four elementary schools rank consistently in the top 5 in the state and provides dual immersion programs in both Spanish and French languages. There are two levels of middle schools and the well known Park City High School. Park City is very accessible from two airports: Salt Lake City International Airport (30 minutes from Park City) or, the private airport in the town of Heber (20 minutes from Park City) and therefore makes it a very attractive for seasonal vacationers, celebrities and the business elite.
Park City provides the largest winter playground in the United States. With the mega merger of Park City Mountain Resort and the Canyons, now renamed "One Park City," it provides more than 7,300 skiable acres of terrain. Deer Valley Resort®, a skier-only resort, is consistently in the top 3 resorts in the country, and more often than not the #1 resort due to their brilliant facilities, operations and service. There are an incredible amount of activities and places for tourists to experience in and around Park City. With a multitude of vacation accommodations, shops, markets, recreational facilities and festivals it has allowed the city to adapt a year round lifestyle. "People visit Park City for the winters but live here for the summers", says Andrew Storms - Executive Real Estate Advisor with Engel & Völkers Park City, who has been featured on Wealth TV, HGTV and USA Today for pairing lifestyle real estate with clients.
Home prices for second homes in the city are lower and definitely a lot more attractive for similar types of homes that are found in Jackson Hole, Aspen, Vail, or Sun Valley and easier travel experiences for a majority of people. Affordable prices in the area have also attracted more families looking for a second home away from home, making this their all-year long vacation spot.
The latest Park City real estate updates and news:
Park City Lifestyle Homes has all the bases covered with their pulse on Park City real estate & Deer Valley real estate. From market values and area statistics to HUD properties going into pre-foreclosure, and other information that can affect home buyers & sellers, Andrew Storms and Park City Lifestyle Homes will provide you the information required to make quality decisions. The site also provides the latest updates and information for homeowners that wish to sell their properties in Park City, Utah. "In such a segmented market it is very important for anyone who wishes to sell their property to be aware of the latest trends" says Andrew Storms. "It's very important what time of year you list your home, but just as crucial when not to sell as you may be inadvertently leaving money on the table if your timing is not correct." Park City Lifestyle Homes real estate updates may be accessed at ParkCityLifestyleHomes.com blog.
Andrew Storms is a senior Buyer's Agent who operates Park City Lifestyle Homes and delivers professional real estate information for people interested in Park City real estate, Utah. Being under the Engel & Völkers Park City umbrella allows unprecedented service for buyers and incredible exposure worldwide for sellers. For more information about Park City real estate, visit Park City Lifestyle Homes at ParkCityLifestyleHomes.com. Andrew Storms can be contacted through his office at 435-565-1409 or via email at ParkCityLifestyleHomes(at)gmail(dot)com.