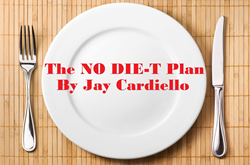 Food is just a habit and merely a symptom. It's not the root cause of our struggles with weight.
New York, New York (PRWEB) January 15, 2016
The No Diet Plan by Health Strategist Jay Cardiello, recently premiered on the ABC Television reality show, "My Diet is Better Than Yours." Fox Fence, LLC, the East Coast parent company of the Jay Cardiello franchise, has also recently launched its new website, jcardio.com, which offers both sustainable and quick weight loss tips. Cardiello (42), with 21 years of experience in the health and fitness industry, has built up an impressive portfolio of personal clients, including several A-List Hollywood celebrities and All-Star professional athletes. Those names include the likes of Jennifer Lopez, Curits '50 Cent' Jackson, Ryan Seacrest, Kevin Love, Sofia Vergara, Dakota Johnson and Alex Rodriguez.
The weight loss tips within the diet plan teach clients how to find the root cause of their issues with food, as diet is merely a symptom of a larger underlying problem. The No Diet Plan is Cardiello's newest product and is featured weekly on the ABC's "My Diet is Better Than Yours." The reality program was shot in Atlanta over 14 weeks last year and features five locals who select a trainer and their customized diet and exercise program. However, each contestant gets the option of switching trainers if they aren't happy with their results. The contestant losing the most weight wins $50,000.00 cash, $20,000.00 in free groceries from Earthfare and a cover story in People magazine. Cardiello was chosen by contestant Jeff Benedict, an Atlanta radio producer, who has never taken a family photo because of his weight. After pairing up with Jay, the show chronicles physical and emotional transformations, including personal goals of Benedict, including completing his first mud run and a highly anticipated family trip to an amusement park.
Cardiello gets his contestant off the scale with "The No Diet Plan," a behavioral change program for sustainable weight loss. This diet plan includes simple and effective calorie-crunching strategies such as eating off of blue plates, snacking with your non dominant hand, and the using chopsticks instead of a fork or spoon to aid in portion control. Cardiello invented the plan in memory of his father Pete, who passed at a young age because of obesity.
The main takeaways of the No Diet Plan are as follows:
1. Sleep is critical to weight loss as well as general health. 7.5 hours of sleep in a serene setting, including the colors green, lavender or pink. These colors on bedroom walls or sheets can evoke a feeling of comfort and relaxation. Be careful not to paint bedroom walls red or deep purple as this may over-stimulate the brain with creativity, preventing rest.
2. Give food a helping hand: The human hand is a great portable measuring device, and can help with portion control at each meal. Protein portions should be the size of one's palm (3 inches in diameter) and no thicker (than the palm) for meats. Produce can be measured with two fists. Carbohydrate portions including pasta or rice should be no larger than one's fist. Limit fat serving sizes (cheese or sauce) to half a thumb. Tip - cup the non-dominant hand for snacks. (larger or athletic men may use slightly larger portions: with two palms for proteins)
3. There are three simple ways to identify what to eat: First, if it goes bad, it's good: Make produce (fruits and vegetables) a part of every meal. Americans don't eat take in enough roughage, and having a serving of fruit or veggies is a great way to bolster health. Second, if it didn't appear on a grocery shelf 100 years ago…don't eat it. Third - "Eat like you have a cold." The doctor advises to get plenty of rest, stay hydrated, eat fruits & vegetables and avoid processed and sugary foods. Per Cardiello, "Why do we always eat healthy when we're sick? Why not do that to avoid getting sick?"
4. Slow down to lose weight. Believe it or not, it takes the brain nearly 15 minutes to realize its full. So, to help keep a trim waistline and control portions, try using chopsticks or eating with the non-dominate hand. These simple and quick weight loss tips will slow down food intake and help keep one's weight in check.
5. Wear red. Red is a dominant color that is shown to increase one's pulse, cardiovascular functions and alertness. Tired? Throw on a red shirt to help boost one's next workout. Or, paint the walls of the garage or home gym red, and use the color as motivation through the next exercise session.
The plan is supported by Exercise is Medicine and the American Heart Association. "In my career I've been fortunate to have trained Hollywood movie stars, professional athletes, average Joe's and the obese; and I've successfully sculpted all of them into the best shape of their lives," says Fox Fence co-founder Jay Cardiello. "Ironically, the most common question I get from them is not 'Jay - what exercises should I do today?' It's 'Jay - what should I eat?' Through personal training, speaking engagements and social media, there have literally been thousands of requests asking the same thing. I lost my father to obesity long before his time, and I wanted to do what I could to help others. That is the main reason I created this plan, and was the main reason I switched my focus from fitness to overall health strategy. America deserves to see the big picture, and understand the four main pillars of health - Emotional, Spiritual, Physical and Nutritional. Sure, what we put in our bodies is important, but it alone does not tell the whole story. Food is just a habit, and merely a symptom. It's not the root cause of our struggles with weight."
Emotional Pillar of Health:
It's important to take a step back and ask why people instinctively look at food the way they do. Is the individual using it as 'comfort' or a coping mechanism for something more substantial beneath the surface? More often than not, there are larger underlying emotional issues in people's lives that affect all their behavior, including eating habits. Per Cardiello, "Some people merely use food as a crutch to get them through those struggles." The No Diet Plan pdf provides tips and tricks to help identify and cope with these emotional issues with ways other than eating.
Spiritual Pillar of Health:
This area focuses on sleep and meditation. Sleep deprivation is a concomitant in several deadly diseases including heart disease, stroke and diabetes. Concurrently, people make poor food choices when they are sleep deprived. Per Cardiello on the the reality show "When people only get three hours of sleep, do they wake up and say 'I think I'll have a grilled chicken salad today for lunch?' Of course not! We say 'Give me the doughnuts!'" There are several other areas within the Spiritual Pillar, some of which are touched on in Jay's book "Cardio Core 4x4."
Physical Pillar of Health:
The physical pillar aims at getting proper exercise and cardiovascular conditioning. When dealing with obese or sedentary individuals, "what" exercises one does isn't all that important - the important thing is to simply get up and move. Walking outdoors is a great way to break the pattern of not exercising. Make sure to get at least 150 minutes (2.5 hours) of exercise per week, according to the American Heart Association. Use the color red help achieve personal exercise goals. For more exercise ideas, check out Jay's flagship exercise product JCORE - a 6 DVD set helping you to get up and move. It is available for purchase via instant download or hard copy in the site's shop.
Nutritional Pillar of Health:
The nutritional pillar is the most talked about area of health and behavioral change, and is featured prominently on the "My Diet is Better Than Yours" reality show on ABC. Finding the right foods, knowing the proper portion sizes and utilizing the proper dinnerware are keys to success here. Blue plates and particularly those that specialize in portion control are key. As an example, check out the Livliga portion control line that Jay uses personally.
Jay Cardiello and Fox Fence, LLC have experienced global success through their commitment to providing effective exercise medicine, nutritional science and motivational products. There are no "quick fixes" here, with our programs instead grounded in the sound principles of physics, anatomy and physiology and psychology. Also woven into the fabric of this brand is a steadfast commitment to proper rest and nutrition coupled with a disciplined work ethic to adhere to the methods provided.
"We're thrilled to have launched the new site that provides so much valuable knowledge to the general public," says Cardiello. "The site also includes a unique online store featuring a few products I use myself in my everyday life."
The No Diet Plan is available for instant download on Jay Cardiello's official website. To learn more, visit jcardio.com.
About Jay Cardiello
Jay graduated from the College of William and Mary in Williamsburg, Virginia with a Bachelor of Arts degree in English in 1999. Jay is also certified by the National Strength and Conditioning Association, the International Sports Sciences Association and is an "Exercise is Medicine" Professional.
SOURCE Fox Fence, LLC