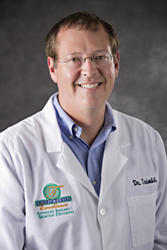 Menomonie, WI (PRWEB) January 15, 2016
Dr. Bruce Trimble is an experienced dentist in Menomonie, WI, who invites his patients to attend a complimentary dental implant seminar from 6:30-8:00 p.m. on Wednesday, January 27, 2016. Seats are limited, so those who wish to attend are encouraged to RSVP as quickly as possible by calling (715) 330-4322. As a leading expert on the placement of dental implants, Dr. Trimble is excited to share his knowledge with existing and potential patients.
Dr. Trimble has many years of experience as a reputable dentist in Menomonie, WI, and invites all of his current and potential patients who are interested in dental implants to attend his complimentary lecture and learn more. The purpose of each one of Dr. Trimble's dental implant seminars, is to improve patient's lifestyles by easing their basic eating and chewing capabilities. Dr. Trimble encourages patients to, "Eat, Chew & Be Happy for Life." Implants are an ideal solution for individuals who want to receive long-term replacement solutions for their missing teeth. When teeth fall out as a result of injuries, old age or gum disease, it is important to replace them before the jaw bone begins to degrade and the teeth adjacent to the empty sockets begin to shift and cause changes to the bite. If left untreated, missing teeth can eventually cause the outer appearance of the face and mouth to become altered as the shape of the jawbone changes.
Those who receive implants to replace their lost teeth are able to enjoy the benefits of full dental function and long-term comfort. Individuals who take good care of their implants can typically expect them to last a lifetime. Dr. Trimble seeks to help patients understand their tooth replacement options by offering detailed information about implants during his complimentary seminar. All attendees will receive a $250 gift card that can be used towards an implant treatment, and the winner of the grand prize will receive one dental implant, free of charge.
Those who wish to learn more about dental implants and Dr. Trimble's experience as a dentist in Menomonie, WI, are invited to RSVP for his upcoming seminar by calling (715) 330-4322.
About the Doctor
Trimble Dental Excellence is a general practice offering personalized care for patients in Menomonie, WI. Dr. Bruce Trimble offers a variety of services, including advanced dental implants and sedation dentistry. Dr. Trimble is a graduate of the University of Minnesota and has dedicated his professional career to providing you with the best that dentistry has to offer. He is continually educating himself and his staff on the newest techniques and advances to offer you state-of-the-art, antiseptic, personalized & comfortable dental care. Dr. Trimble is a fellow of the International Congress of Oral Implantologists & the Misch International Implant Institute. He is also among the few dentists in Wisconsin who are licensed for IV sedation and has received a certificate from the Temple School of Dentistry for surgical oral implantology. To learn more about the services offered at Trimble Dental Excellence, please visit their website, http://www.trimbledental.com or call (715) 802-4360 to schedule an appointment.