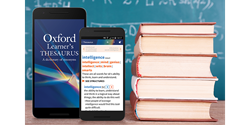 (PRWEB UK) 15 January 2016
On 18 January, to celebrate World Thesaurus Day, the Oxford Learner's Thesaurus iOS and Android apps are available at up to 40% off.
English has thousands of synonyms, but no two words have exactly the same meaning. That makes finding the right word to say what you really mean challenging for learners of the language. It's probably one of the reasons why the same words – like nice and interesting - get used again and again.
With the help of the Oxford Learner's Thesaurus, learners of English will understand the differences between similar words in written and spoken English, enabling them to enrich their vocabulary and find the right words to say exactly what they mean.
Celebrate World Thesaurus Day by downloading 100 entries from the Oxford Learner's Thesaurus for free before buying the full dictionary with 17,000 synonyms and opposites as an in-app purchase. The full app is available at up to 40% off on 18 January only.
The full Oxford Learner's Thesaurus app includes:

Clear explanations of over 17,000 synonyms and opposites.
Usage notes to identify the exact difference between similar words.
Guidance on which words are used most frequently.
Help with choosing the right words for the context: formal/informal, written/spoken, approving/disapproving.
Hear the words and their synonyms spoken by real British and American voices.
30 useful topic word lists which users can add to or edit.
Create and edit your own lists of favourite words.
Find the word you're looking for easily, with the alphabetical index.
With the 'Did you mean…?' function and wildcard search users can find a word even if they don't know the spelling.
Use 'History' to view the last 100 looked up words.
Availability:
The free download will give you 100 sample entries from the dictionary. An in-app purchase is required to activate the full dictionary.
The Oxford Learner's Thesaurus Android app is available at: https://play.google.com/store/apps/details?id=com.oup.elt.olt
The Oxford Learner's Thesaurus iOS app is available at
https://itunes.apple.com/us/app/oxford-learners-thesaurus/id916689820
About Oxford University Press
Oxford University Press is a department of the University of Oxford. It furthers the University's objective of excellence in research, scholarship, and education by publishing worldwide. OUP is the world's largest university press, with a wide global reach. It currently publishes more than 6,000 new publications a year, has a presence in around fifty countries, and employs more than 5,000 people worldwide. It has become familiar to millions through a diverse publishing programme that includes scholarly works in all academic disciplines, bibles, music, school and college textbooks, children's books, materials for teaching English as a foreign language, business books, dictionaries and reference books, and academic journals.
To find out more about Oxford University Press please visit http://www.oup.com. To find out about OUP's English Language Teaching publications please visit http://www.oup.com/elt. For more information or queries about the OALD please contact elt(dot)enquiry(at)oup(dot)com.