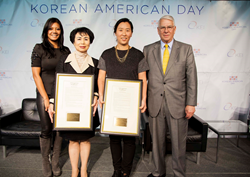 "Fusion is actually the best compliment I could get." -Chef Rachel Yang
Washington, DC (PRWEB) January 19, 2016
The Korea Economic Institute of America (KEI) hosted its ninth annual Korean American Day celebration on January 13, 2016 with a high-level gathering of public and private sector leaders from across the United States.
On this day 113 years ago, the first Korean immigrants arrived in the United States. To commemorate the important contributions of the Korean American community, KEI choose three leaders in culinary excellence as this year's honorees.
According to IBISWorld, Korean restaurants generated $2 billion in revenue and employed 21,640 individuals at over 3,700 locations throughout the United States. The three honorees this year represent both traditional and modern food, and hail from all across the country. But they all have one thing in common – they use food as a way to bridge Korean and American culture.
Jae Ok Chang – Author & Director of the Global Korean Cuisine Research Center
Edward Lee – Chef & Owner of 610 Magnolia & former Top Chef contestant
Rachel Yang – Chef & Owner of Joule, Revel & Trove
During a luncheon at the Newseum in Washington, DC, the honorees discussed their backgrounds, their passion for cooking, and how they view the future of Korean food in the United States. Marja Vongerichten, host of the popular PBS series "Kimchi Chronicles," served as a moderator for the discussion. Unfortunately, due to a family emergency Edward Lee was unable to be present for the event.
Chef Rachel Yang, who co-owns three Korean fusion restaurants in the Seattle area, said that she likes the idea of introducing Korean cuisine to a wide audience through her cooking. At first, she said, she shied away from the term "fusion" because of its nebulous meaning. But for her, fusion is all about creativity and combining the two parts of her identity as a Korean American. "This is really 100 percent me…I'm half American half Korean at this point," said Yang, who moved the States from Seoul when she was 15. "Fusion is actually the best compliment I could get."
Jae Ok Chang said she prefers traditional Korean food designed in new and interesting ways. Chang moved to Altoona, Pennsylvania with her husband in the 1970s, and couldn't find Korean ingredients anywhere. So she would have to use American ingredients to cook traditional Korean food, she said. Years later, her husband and daughter begged her to compile her recipes into a cookbook – her first volume was the first Korean cookbook available in English.
All the panelists agreed that when it comes to sharing culture, there is nothing better than food. If you meet someone from the other side of the world, said Chef Yang, be sure to ask them about food – "You can basically connect instantly."