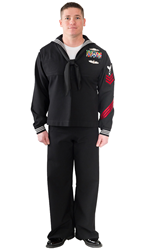 Suitland, Maryland (PRWEB) January 15, 2016
Yeomen First Class Petty Officer John Provins was recently named Supreme Headquarters Allied Powers (S.H.A.P.E.) Europe US Navy Element Sailor of the Year. As a result, he has been selected to compete for the US Naval Forces Europe and Africa, 6th Fleet Shore Sailor of the Year. Provins was selected from among 75 nominees.
The Sailor of the Year Program was established in 1972 by Chief of Naval Operations, Admiral Elmo Zumwalt, USN, and Master Chief Petty Officer of the Navy John Whittet, USN, to recognize an individual Sailor who best represented the ever-growing group of dedicated professional Sailors at each command and ultimately the Navy.
In regards to what the distinction means for him personally, Provins responded, "I did not enlist in the Navy to compete in such a contest, but am happy and humbled that my leaders feel I am deserving of the nomination to go on and compete as the Top Sailor."
Provins is not only an Andrews Federal member, but also the husband of Sharee Provins, FSS, Chievres Branch. When asked how she felt about her husband receiving the award, she replied, "I am not just his wife, but I am also a former sailor. This is a huge honour for my husband. We all strive for greatness in everything we do in life and I've always known my husband to do well, in and out of uniform. I hope he continues to show everyone else what I already know of him. Only one senior person per command, Navy-wide, is chosen for excellence and honoured with Sailor of the Year and it is an honour to our family as well."
About Andrews Federal Credit Union
Andrews Federal Credit Union was founded in 1948 to serve the needs of military and civilian personnel by providing a vast array of financial products and services. With over $1 billion in assets, Andrews Federal has grown to serve more than 116,000 members in the District of Columbia, Joint Base Andrews (MD), Springfield, Virginia (VA), Joint Base McGuire-Dix-Lakehurst (NJ), and military installations in central Germany, Belgium, and the Netherlands. In addition, the Credit Union serves as a financial partner with many select employee groups in Maryland, the District of Columbia, Virginia and New Jersey.
To learn more about Andrews Federal Credit Union and its community involvement, or to become a member, call 800.487.5500 or visit http://www.andrewsfcu.org.