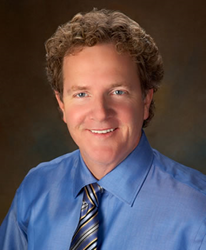 St. Petersburg, FL (PRWEB) January 15, 2016
Dr. Bruce Crawford is now welcoming new patients who suffer from peri-implantitis to visit his practice for the LAPIP protocol, which is a laser dentistry procedure designed to mitigate periodontal inflammation. Without effective treatment, people who develop peri-implantitis after receiving dental implants near St. Petersburg, F L, may be at risk for various complications, including implant failure. Fortunately, clinical research shows that the LAPIP procedure promotes healthier outcomes by removing harmful bacteria, reducing periodontal tissue loss and fostering healing.
It is crucial for those who have dental implants near St. Petersburg, FL, to maintain strong periodontal health, as this can reduce the risk of the implants failing. Problematically, though, about four out of five people who receive dental implants experience subsequent gum tissue inflammation. Some of these patients ultimately develop peri-implantitis, which is characterized by inflammation of the gums around the implant and the supporting bone. Peri-implantitis can contribute to implant failure if the responsible bacteria and pathogens aren't eradicated. In recognition of this serious risk, Dr. Crawford is offering the LAPIP laser dentistry procedure to all new patients, including individuals who have not received referrals.
The LAPIP procedure addresses peri-implantitis without any unnecessary tissue damage or loss. This procedure is a modified version of the LANAP® protocol, which removes gum disease without any incisions, grafts or sutures. During the LAPIP procedure, Dr. Crawford utilizes the PerioLase® MVP-7™, which is a laser that exclusively targets dark-pigmented bacteria and tissue. This ensures that healthy tissue remains intact to stabilize the implants. This laser dentistry procedure offers patients immediate relief from the pain associated with peri-implantitis, and it also promotes healing of the bone and soft tissue that support the implants. This reduces the risk that patients will need to have their implants removed later.
Individuals who have received dental implants near St. Petersburg, FL, and notice signs of peri-implantitis, such as periodontal swelling, pain or bleeding, are urged to schedule consultations with Dr. Crawford to learn whether they could benefit from the LAPIP protocol. Patients may visit Dr. Crawford's website or contact his office to request appointments.
About the Doctor
Dr. Bruce M. Crawford is a periodontist in St. Petersburg, FL, serving as a specialist for more than 25 years. Dr. Crawford not only specializes in treating gum disease and dental implants, he has also served a clinical professor at the University of Florida for more than 15 years. He believes having a healthy mouth leads to a healthy life, and enjoys helping his patients regain their confidence through improved health. To learn more about the dental services Dr. Crawford offers please visit his website at http://www.brucecrawford.com or call (727) 231-5908.