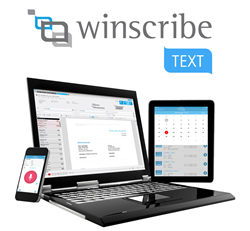 ...Our ultimate goal with each release is to empower our clients to take control of their documentation processes, so they can see more patients, communicate information faster and create higher quality reports...
Auckland, NZ (PRWEB) January 18, 2016
Winscribe today unveiled the latest version of its medical reporting and clinical documentation management solution, Winscribe Text v8.1, which aims to provide caregivers with a more efficient method for creating, distributing and managing important medical documents.
Winscribe Text v8.1 is an enterprise software system that streamlines clinical documentation workflow processes and enables accurate medical documents to be created and communicated promptly – meeting the needs of the demanding patient care environment. By means of a seamless integration with a hospital's EHR or another Health Information System (HIS), Winscribe provides healthcare professionals with a fast and easy way to document detailed and accurate patient encounters, while streamlining communication and collaboration between the patient's care team.
With the latest release of Winscribe Text, healthcare professionals also benefit from improved document handling and reporting, including:

Improved filtering and queue management – Winscribe Text now offers enhanced search and filter options to allow for customized queue management. This request, based on customer feedback, allows medical assistants to create, view and manage their workload according to their personal or departmental preferences.
QA Friendly Distribution Approval – Quality and Assurance (QA) is a vital step in the final review of medical documentation, and with Winscribe Text v8.1, permission, streamlining and consistency workflow steps have been implemented.
Enhanced Document Cloning – Winscribe Text enables documents to be cloned, which saves time spent on documentation that utilizes repetitive content. Completed documents, as well as those documents that are still in progress, can now be cloned to send slightly modified content to different recipients.
Improved Document Confidentiality Permissions – Documents created within Winscribe Text can now be handled through several different confidentiality steps within the workflow, allowing doctors to choose a personal or departmental methodology when handling sensitive documents or patient information.
New Performance Reports – A complete suite of reports are now available with the release of Winscribe Text v8.1. The new reports focus on the ability to identify workflow bottlenecks to take corrective measures, compare and manage departmental and transcriptionist productivity, reduce clinical risk by ensuring all appointments have resulting correspondence, manage speech recognition accuracy over time, and report on the number of documents and characters typed within a time range.
Winscribe Text for Apple iOS Devices – Going beyond its core features for dictation, speech recognition, integrated clinical data and document management, Winscribe also introduces a new mobile experience with the addition of Winscribe Text for Apple iOS devices. To complement and provide a full documentation ecosystem for clients, Winscribe Text for iOS provides platform-specific apps for the iPhone and iPad. The ability to follow medical documents, review, edit and sign while on the go provides the medical professional with a continuous flow of information, immediate access to the documents that are in progress and the ability to review while finalizing the report.
Winscribe's Director of Product Strategy, Pierre Corboz, stated that:
"The latest advancements available with the release of Winscribe Text v8.1 provide new and enhanced methods for streamlining document creation and management. The updates give clients more power to easily manage workloads, data access and document production, while enabling the smooth capture and quick communication of information. In addition, with the new mobile documentation solution for Winscribe Text, physicians and other caregivers can quickly and easily capture thorough patient notes – from anywhere and at any time – enabling more efficient and higher quality documentation. Our ultimate goal with each release is to empower our clients to take control of their documentation processes, so they can see more patients, communicate information faster and create higher quality reports that enable them to treat patients quicker and more accurately. I am confident that Winscribe Text v8.1 and Winscribe Text for Apple iOS devices will meet these objectives and further assist our clients to improve their service."
To learn more about Winscribe Text and Winscribe's full suite of speech productivity and workflow management solutions, please visit http://www.winscribe.com. For more details regarding the latest features and upgrades made available in Winscribe Text v8.1, please visit http://www.winscribe.com/medical-documentation.
About Winscribe:
Clinicians using Winscribe software spend less time on administration and more time where they should be, with patients. Over 350,000 users around the world have used our suite of digital dictation, speech recognition and document management software.
Winscribe's product range makes documentation much faster and more cost-effective. Healthcare professionals can use their voice to easily create documents, enter data and send information.
Thanks to leading edge technology, healthcare providers using Winscribe software are able to focus their efforts where they can be of most benefit, leaving the bulk of administration in the hands of intelligent software. For more information, please visit http://www.winscribe.com.