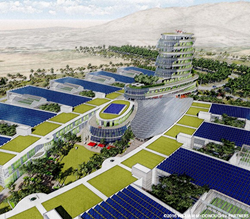 Inspiring creativity, productivity and a strengthened sense of community were key to designing this ecosystem.
Charlottesville, VA (PRWEB) March 10, 2016
Hero MotoCorp Ltd (HMCL), the world's largest manufacturer of two-wheeled vehicles, proudly celebrated the opening of its research and development campus, designed by William McDonough + Partners. The project is Hero MotoCorp's latest center for advanced research and development of Hero motorcycles.
Hero MotoCorp's strong environmental values and corporate principles are rendered visible to engineering staff and visitors alike through the innovative design of the campus. Located near Jaipur, India, the campus is a model of positive sustainable growth and is inspired by the principles of the Cradle to Cradle® approach to design in the built environment. To accomplish this, William McDonough + Partners collaborated with experts in Indian construction and real estate including SEMAC (Architects and Consulting Engineers) and Jones Lang LaSalle (JLL).
The 250 acre campus is designed to be flexible and adaptable, anticipating the changing needs of future technologies. Laboratories, test tracks, support buildings and open gathering spaces are organized into a campus that is designed to inspire innovative thinking. At the center of the design is a sculpted tower that contains studio spaces for designers and engineers, while also providing an inspiring view of the test tracks and laboratory spaces below. Between the laboratory wings is an active central courtyard space that William McDonough has called the "Boulevard of Wheeled Dreams". This is an inviting landscaped commons area that promotes communication and sharing among the creative people working on the campus. The winding series of vegetated and shaded spaces blurs the lines between indoor and outdoor spaces.
"Inspiring creativity, productivity and a strengthened sense of community were key to designing this ecosystem," said William McDonough. "Our vision in creating the Boulevard of Wheeled Dreams was to inspire employees and visitors to feel close to nature while being protected from the intense climate of the region. The campus as a whole is a testament to how resilient design can meet the natural beauty that it is built within."
The Hero Global Center for Innovation and Technology is the second project in a series of four that William McDonough + Partners is designing for Hero MotoCorp. The first project was The Garden FactoryTM, located in Neemrana, India, which opened October 2014.
For more information, please visit McDonoughPartners.com.
ABOUT William McDonough + Partners
William McDonough + Partners is an architecture and urban design firm with offices in Charlottesville, Virginia and San Francisco. The firm applies a positive, principled design philosophy inspired by Cradle to Cradle—an approach that takes its cues from living systems and processes and seeks to expand on enduring standards of design quality. William McDonough's interests and influence range widely, and he works at scales from the global to the molecular. He is recognized globally as a leader in sustainable development and currently leads and chairs the World Economic Forum's Meta-Council on the Circular Economy.
Recent and current projects include: NASA's Sustainability Base office building at Moffett Field, California, viewed by NASA as a as a "prototype of a 21st-century building"; the Park 20|20 Master Plan near Amsterdam, and the architectural design of several corporate offices at Park 20|20; and Hero MotoCorp's new factory in Neemrana, India, as well as their new Research & Development Center in Jaipur, India. The firm is also master architect for The Valley at Schiphol Trade Park, The Netherlands' new National Hub for the Circular Economy.
Cradle to Cradle® is a registered trademark of MBDC.
Garden FactoryTM is a trademark of William McDonough.