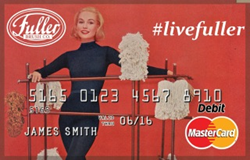 Napa, CA (PRWEB) January 19, 2016
Iconic American brand, Fuller Brush Company, has signed a slate of new licenses that utilizes the Fuller Brush Name for products focused on home, tools and lifestyle that help consumers "Live Fuller". These licenses will expand Fuller Brush Company's current reign on cleaning, cooking, and personal care products to an even broader audience of consumers. Working together with USA Filtration, Core Pacific, and Card.com, Fuller plans to blend their world-renowned aptitude for high quality long lasting products with the unique products and services provided by these companies.
USA Filtration hopes to access new channels of distribution using the Fuller Brush Name for it's under-the-sink and whole-house water purification systems. John McNulty, General Manager of USA Filtration, says "Fuller is a good fit for us because of their 'Made in the USA' foundation and brand recognition for selling high quality cleaning and personal care products to a dedicated consumer base. We are excited about this relationship."
Core Pacific, Inc. will also be working with Fuller Brush Company in licensing the brand name for a line of folding step stools and shower curtain rods that complement the Fuller Brush line of tools and cleansers. "Our items are natural extensions of the Fuller brand," states Core Pacific President, Warren Vogel. "It is a good fit for the two companies," says Jack Morrow, President of Out of the Box Licensing, who brokered the deal with Fuller's agent, Alex Meisel & Co.
Fuller Brush is also pairing up with CARD.com to offer "Live Fuller" prepaid debit cards with classic, retro themes from the Fuller Brush catalogs and magazines of the 1950's and 60's. CARD.com Sr. VP Licensing, Linda Castillon notes, "The nostalgic imagery is on trend, and Fuller's cross-promotional potential through their proprietary distribution is a plus."
These items will be available for purchase in 2016 through the licensed companies' websites and distributors. The CARD.com, debit cards are available on the CARD.com mobile app or consumers can sign up for a free card on http://www.CARD.com.
The Fuller Brush Company is dedicated to continuously providing quality long lasting products that reflect the company's 100 years of excellence. Since it's conception in 1906, the iconic family owned business strives to improve and develop its array of products. Fuller Brush Company is excited to take another step forward by joining forces with like-minded companies to continue its advancement and growth. Find out more at http://www.fuller.com!