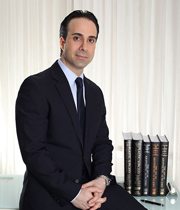 "In all I do, my goal is to make my patients happy and do what is best for their health and appearance. I strive for perfection in each procedure. I love being able to shape the lives of my patients. It's an honor to be recognized for my hard work."
Beverly Hills, California (PRWEB) January 17, 2016
Dr. Raffi Hovsepian was recognized as Top Doctor for 2016, by Los Angeles Magazine for his professionalism and expertise. Dr. Hovsepian is a triple board certified Beverly Hills plastic surgeon with outstanding accomplishments in the medical field.
Dr. Hovsepian has worked tirelessly in aesthetic, plastic and reconstructive surgery innovation to give his patients outstanding treatment. Dr. Hovsepian encourages multiple patient consultations to ensure the most individualized treatments and counseling. He has spent his entire career studying facial, breast and body aesthetics to guarantee beauty for his patients. His clinics offer only the most refined and technologically advanced treatments.
Dr. Hovsepian has co-authored and edited various books in his field and has published many original journal articles. Dr. Raffi Hovsepian's reputation speaks for itself; his successful history, patient testimonials, and more than 65 awards and achievements demonstrate his incredible capabilities as a physician. Some of the awards include "America's Top Plastic Surgeons," "The Patients' Choice Physician Award," "2000 Outstanding Intellectuals of the 21st Century Award," and "2010's "Man of The Year Distinction" award. Dr. Hovsepian has also appeared on multiple television programs, such as ABC, CBS, The Dr. Oz Show, Entertainment Tonight, Univision, Telemundo, Primer Impacto, Sky News, Daybreak, Lorraine and ITV. His skill and reputation have drawn patients from all over the world to him.
About Dr. Raffi Hovsepian
Dr. Raffi Hovsepian graduated Magna Cum Laude in his undergraduate degree, and graduated medical school with a Doctor of Medicine and two Masters in Science, Pathology and Physiology—all while remaining in the top 10% of his class. He completed his residency in general surgery and graduated as Chief Resident. After his residency, he chose to complete two fellowships at the Aesthetic & Plastic Surgery Institute at the UC, Irvine School of Medicine. Visit his website at: http://rhmdplasticsurgery.com/.