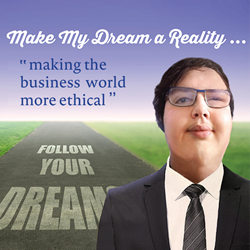 Having a visual impairment is not the end of the story, just the beginning!
Grenoble, France (PRWEB) January 18, 2016
William Desmas is a twenty-three years old French student particularly interested in science, economy, technology, brain, sports, management, and finance. He has a burning desire to complete his higher education. Unfortunately, unlike most other students of his age, William has got serious visual impairment. In spite of being almost blind, he wants to study, succeed, and make this world a better place.
Fighting against his physical limitation, William received the license for the French Chartered Accountant path in 2014. Recently, he has passed the qualification exam for the renowned Grenoble Ecole de Management. It is relevant to mention here that this institution has recently been ranked by the Financial Times as the 20th European business school. William is also getting prepared for a certificate on negotiation from the University of Michigan and the next two years of the French Chartered Accountant path.
Talking about his dreams and apprehensions, William says, "My dream is to make the world financially more ethical. Warren Buffett is my model. As you know, he is a gentleman, with a perfect ethical vision. To work in finance and contribute to making the world more ethical, I need to graduate from Grenoble Ecole de Management. I managed to join the school, but at this moment, I'm not sure if I will realize my dream."
William informs that his total school fees for these two years are 23447 €. He also needs to purchase some specific types of equipment related to his impairment such as a screen reader and a compatible laptop. William received a small scholarship because of his specific situation. Unfortunately, his parents are not wealthy, and the bank loan he got is insufficient. Though he has already got an internship, unfortunately, it is for the next year.
William has just started a crowdfunding campaign via Indiegogo to raise $14,500. This funding will help him graduate from Grenoble Ecole de Management. He has also created different stretch goals for different levels of funding.
Inviting prospective backers for support, William said, "I have tried to fund my studies by a loan, a scholarship, a state support, an internship, and currently my studies are not totally funded. If I can't fund this, I won't realize my dream to graduate from Grenoble Ecole de Management and make the world more ethical. "
To help William achieve his funding goal, please visit https://www.indiegogo.com/projects/help-a-visually-impaired-student-realize-his-dream/x/10562283#/
About William Desmas: William Desmas is a visually impaired student who has overcome his physical limitations to qualify for the top rated European business school Grenoble Ecole de Management. Idolizing Warren Buffet, William dreams of making the world financially more ethical. At present, he is looking for funding assistance to continue his higher education so that he can work in the field of finance.