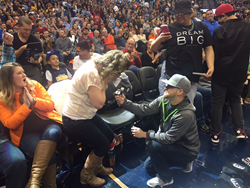 The Denver Nuggets fan reached out to Shane Co. with a special request: to propose on the Kiss Cam.
Denver, Colorado (PRWEB) January 16, 2016
Shane Co., the largest family-owned jeweler in the United States, helped a customer surprise the love of his life with a marriage proposal and a gorgeous diamond engagement ring at the packed Pepsi Center Friday evening as the Denver Nuggets took on the Miami Heat.
Denver resident and Nuggets basketball fan Andrew Rugare reached out to Shane Co. last December with a special request to check two big items off of girlfriend Jamee's bucket list: 1) Be featured on the Kiss Cam, and 2) Get engaged. The couple met at a friend's birthday party and have been together for over a decade, and Andrew said that he's known Jamee was "the one" many, many years ago. As soon as Kiss Cam sponsor Shane Co. found out about Andrew's request, they jumped into action to make his dream come true.
Andrew popped the question during the second half of the Nuggets game, with an arena full of supporters clapping and screaming and his fiancée, Jamee, crying tears of joy.
Andrew selected the diamond engagement ring at Shane Co. in Westminster based on a picture that Jamee posted on the refrigerator, and he wanted to make sure the proposal was one she'd never forget. After attending Nuggets and Avalanche games over the years with her boyfriend, and asking if they'd ever be on the Kiss Cam, January 15 was the night not one, but two wishes came true for this lucky young woman in the Mile High City.
She said "yes."
About Shane Co.
Shane Co. is the largest family-owned jeweler in the United States and is renowned for their unique engagement rings, wedding bands and stunning gifts for every occasion. The Denver, Colo.-based company is a direct importer of diamonds, rubies, sapphires, pearls and other gemstones and operates 20 stores in 13 states, as well as an online store at http://www.ShaneCo.com. Shane Co. is recognized in the industry as a price leader offering the finest array of customer benefits, including a Free Lifetime Warranty and a 60-Day Money-Back Guarantee.