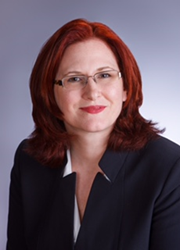 Houston, TX (PRWEB) January 18, 2016
Eating Recovery Center of Houston, a leading provider of eating disorder treatment, announced today that Michelle Beaudoin has joined its executive leadership team as President. Overseeing clinical and administrative operations in Houston, Beaudoin will also lead Eating Recovery Center of The Woodlands. She will do this in collaboration with Eating Recovery Center's Denver-based leadership, upholding the excellence of Eating Recovery Center's eating disorder treatment programs in the Houston market.
"Michelle Beaudoin's background in the behavioral healthcare field combined with her leadership experience are valuable assets to our Houston location," said Ken Weiner, MD, FAED, CEDS, Founding Partner and Chief Executive Officer of Eating Recovery Center. "We are eager for her to provide her expertise in leading our Houston and Woodlands locations to meet the rising demand for eating disorder treatments in the region."
Beaudoin has more than 15 years of progressive leadership experience and nearly a decade of leading behavioral healthcare organizations. Prior to joining Eating Recovery Center of Houston, she served as the Executive Director for Right Step Houston, where she provided oversight and direction for a 46-bed detoxification center, residential behavioral health center, an intensive outpatient program for adults with substance abuse and mental health issues, and more. During her time there, she increased census and programming, expanded facilities, and drove outpatient volumes and referral development and marketing initiatives, while leading the center's most successful Joint Commission survey results in 20 years.
Prior to Right Step Houston, Beaudoin was the Director of Clinical Services for St. Joseph's Addiction Treatment and Recovery Centers in New York, where she successfully increased census to 97% occupancy. As director, she ran the 65-bed inpatient addiction treatment center, 25-bed residence for substance abuse and post-traumatic stress disorder, 12-bed supportive living facility, and sober living homes.
Beaudoin has served on many professional boards throughout her career and has been involved in leading multiple community organizations, with roles including: member of the Board of Directors for the New York State Coalition Against Sexual Assault; Chairperson of the ASAP Women's Mentorship Program; and Co-Chair the New York State Association Substance Abuse Providers Women and Children's and Steering Committees.
About Eating Recovery Center
Eating Recovery Center of Houston is part of Eating Recovery Center's national healthcare system dedicated to providing the best-in-class treatment for individuals and families struggling with serious eating disorders. Led by the world's leading experts in eating disorder treatment, Eating Recovery Center provides a full spectrum of eating disorder recovery services for patients at every stage of the illness through an unmatched network of 24 locations in seven states.
For more information about the Eating Recovery Center family of programs, call (877) 711-8583, email info@eatingrecoverycenter.com or chat confidentially with a Master's-level eating disorder therapist at http://www.eatingrecoverycenter.com.