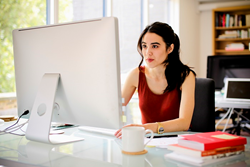 The landscape is rapidly changing, and if you are not evolving, you may quickly find customer experience obsolete
New York, New York (PRWEB) January 16, 2016
UniteU Technologies, a long-time innovator in omnichannel commerce technology, says its new Omnichannel Catalyst™ platform allows companies to create the dynamic data architecture required to meet omnichannel customer expectations, with "open extensibility" to continue evolving as the industry shifts and transforms as never before.
"The landscape is rapidly changing, and if you are not evolving, you may quickly find customer experience obsolete," says UniteU CEO Soumen Das. "We've built Omnichannel Catalyst to be a 'plug-in omnichannel brain' that bolts onto a company's existing systems, and allows them to extend and expand without their previous limitations and friction."
The company is providing live demos and conducting "omnichannel assessments" at the National Retail Federation's Big Show 2016 (booth #652). Held at the Jacob K. Javits Convention Center in NYC, January 17th – 19th.
The platform's robust integration capabilities and omnichannel tool-set, called Omnichannel Workbench™, provide advantages such as an enterprise-wide view of company inventory across all store locations. Smart back-end logic and a drag-and-drop user interface (UI) allows for easy configuration of complex omnichannel workflows, such as selling store-level inventory online or enabling buy online pick up in store (BOPIS).
"To make omnichannel more attainable for mid-market retailers we've developed tools and capabilities that lessen the risk and lower the cost," says Soumen Das, CEO and Founder of UniteU. Omnichannel Workbench's, UIs act as the "omnichannel brain" to handle the complexities of messaging needed to operationalize an omnichannel strategy, while determining that orders are handled profitably. "Customers that have invested are experiencing tangible ROI, including selling their inventory to zero, and better leveraging their product assets" finishes Das.
UniteU's pedigree as an ecommerce provider that has primarily worked with brick-and-mortar retail companies for more than 17 years, has created a foundation of integrations with best-of-breed retail systems including Retail Pro®, NetSuite®, Epicor®, and Microsoft Dynamics® AX. UniteU's ecommerce offering combines gorgeous modern design with open extensibility into back-end store systems delivering a digital shopping experience that can evolve with changing consumer expectations. Omnichannel services such as Find In-Store, Ship-to-Store, and Buy Online Pickup In-Store now become easily adoptable for retailers who can push past their previous technology limitations and transform their retail experience.
UniteU® orchestrates state-of-the-art omnichannel commerce experiences for mid-market retailers, brands and B2B. Omnichannel Catalyst™, UniteU's omnichannel-as-a-service (OaaS) platform, embodies more than 17 years' unifying channels for high-volume clients. It includes a suite of modular, solutions and services that integrate and synchronize with existing core retail systems. It then extends, and evolves those systems in new ways that accelerate growth, optimize operations and achieve omnichannel objectives. Solutions include UniteU Commerce™ responsive ecommerce, UMO™ mobile point-of-sale and sales empowerment platform, and Omnichannel Workbench™, a cognitive toolset that transforms data, orchestrates it across channels, and provides insights and controls to maximize omnichannel profitability. Integrations include all Microsoft® retail solutions, Retail Pro®, NetSuite® and many more. Superior technology and results have led to an impressive client list that includes leaders in fashion, sporting goods, manufacturing, outdoor retail, industrial goods, professional sports and more.