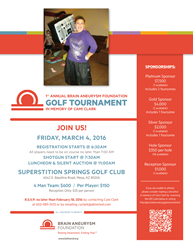 Hanover, MA (PRWEB) January 16, 2016
Please join us for the 1st Annual Brain Aneurysm Foundation Golf Tournament in Memory of Cami Clark, taking place on Friday, March 4, 2016 at Superstition Springs Golf Club in Mesa, Arizona.
This first year event in Mesa is being held in memory of Cami Clark, a beautiful, fun-loving woman who succumbed to a brain aneurysm rupture. Registration for the event begins at 6:30 am and all players need to be on the course no later than 7:00 am. The shotgun start will be at 7:30 am. A luncheon and silent auction will be held following the tournament at 11:00 am.
The cost to participate as a foursome is $600, per player cost is $150. The cost for those that would prefer to attend the luncheon and silent auction is $35. Register for the golf tournament by contacting Cyle Clark via email at cyclark(at)ablesteel(dot)com by February 18, 2016. Sponsorships are available for this event.
Unable to attend this event? Please consider making a donation directly to the Brain Aneurysm Foundation in Cami Clark's memory by going directly to http://give.bafound.org/goto/camiclark.
Your donation towards the 1st Annual Brain Aneurysm Foundation Golf Tournament in Memory of Cami Clark is welcomed and will provide critical funding for Awareness Campaigns, Education, Advocacy, Research Funding and Support Groups.
The Brain Aneurysm Foundation truly appreciates your support. Please visit http://give.bafound.org/goto/camiclark to make your online donation today. Together we can work as ONE to reduce the incidence of brain aneurysm ruptures and save lives.
The Brain Aneurysm Foundation is the globally recognized leader in brain aneurysm awareness, education, support, advocacy and research funding. Now celebrating 20 years of service, the Brain Aneurysm Foundation was established in 1994 in Boston, Massachusetts with a mission to promote early detection of brain aneurysms by providing knowledge and raising awareness of the signs, symptoms and risk factors; work with the medical communities to provide support networks for patients and families; as well as to further research that will improve patient outcomes and save lives. For more information about the Brain Aneurysm Foundation, visit http://www.bafound.org.