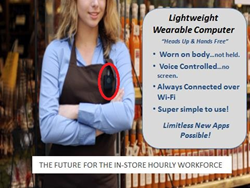 Theatro is working with leading retailers like Cabela's, The Container Store and Bass Pro Shops to optimize store operations.
New York, NY (PRWEB) January 17, 2016
Theatro, the pioneer of voice-controlled wearable communication devices for hourly workers, announced today it will demonstrate its enterprise solution for retailers and announce their partnership with Cabela's, Inc. to replace two-way radios at NRF's Annual Convention & EXPO. The convention will be held January 17-19, 2016, at the Jacob K. Javits Convention Center in New York City. Theatro will be in booth #921 and RetailNext booth #3454.
Theatro is winning significant traction by providing an integrated and intuitive service enabling improvements in operational efficiency, streamlining communications in-store and across the enterprise while enhancing employee productivity. Theatro's service platform leverages the employee talent across stores by letting employees easily access subject matter experts and vital information, without disconnecting from the shopper.
Theatro is highlighting its capabilities with three exciting demonstrations:
1. Store of the Future - Personalization & Real-Time Customer Feedback - Discover how Theatro's wearable in concert with a retailer's loyalty app enables an employee to personalize the customer buying experience as well as enables the customer to provide immediate feedback about the customer service.
2. Predictive Analytics Deliver Proactive Experiences – Check out Theatro's complete set of reporting and advanced analytics capabilities to manage your operations and maximize employee performance.
3. Empowered Employees - With a touch of a button and a simple voice command, improve store operations by arming all employees with capabilities such as SKU-lookup, real-time sales updates, price checks and instantly connecting to store management and product experts.
Theatro is also demonstrating innovations in analytics at the RetailNext booth #3454. The live demo will highlight the power of RetailNext's real-time, best-in-class video analytics in combination with Theatro's IoT wearables solution alerting retail associates to take immediate action based on customer location, dwell time and store traffic data analysis.
To learn more about how Theatro is working with leading retailers like Cabela's, The Container Store and Bass Pro Shops to optimize store operations, visit: http://www.theatro.com.
For more information and to register for NRF 2016, visit: http://bigshow16.nrf.com/.
Connect with Theatro
To schedule private meetings or a demo with the Theatro team, contact patrick(at)theatro(dot)com or visit booth #921 or RetailNext booth #3454 at the event.
About Theatro
Theatro, based in Dallas Texas, brings the advantages of IoT wearables and new workforce optimized apps together in a SaaS offering to provide companies in retail, hospitality and manufacturing with unique mobile solutions for hourly employees. Theatro's innovative retail communications and management solution, delivered over in-store Wi-Fi to hourly associates, is the perfect solution for the on-the-move workforce. Using IoT wearables that are voice-controlled, Theatro users do not have to look at a screen to access information and therefore can stay focused on the customer or the task at hand. Theatro's solution provides management unprecedented analytical insights to increase sales associate productivity, conversion rates and store profitability while enabling employee access to the information they need to provide new levels of customer service.
###