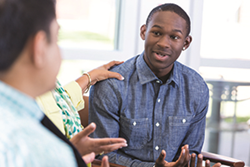 "These are the teen drug trends that healthcare providers need to be aware of so they can watch for signs of drug abuse and advise their patients about the treatment options available to them."
Chicago, IL (PRWEB) January 19, 2016
In response to changing drug trends among teens, Gateway Alcohol & Drug Treatment Centers will offer a free Continuing Education webinar for healthcare professionals.
The webinar, "Emerging Teen Drug Trends and Treatment Options," will give participants the opportunity to earn one CEU and learn about new and popular drugs among teens, why they're dangerous, why teens engage in substance abuse and how to talk to them about alcohol and drug abuse.
Webinar presenters include addiction specialists, Gaia Cosgrove-McVey, Adolescent Program Clinical Supervisor at Gateway Carbondale and Rachel Ott, Adult & Adolescent Program Clinical Supervisor at Gateway Carbondale.
"Heroin overdoses are on the rise in Illinois and the abuse of prescription drugs is an ongoing problem among teenagers. Newer drugs such as synthetic marijuana and so-called 'bath salts' are also popular," Ott said. "These are the teen drug trends that healthcare providers need to be aware of so they can watch for signs of drug abuse and advise their patients about the treatment options available to them."
The webinar will be offered on two occasions: Thursday, Jan. 28 from 12:30 to 1:30 p.m. and Tuesday, Feb. 2 from 12:30 to 1:30 p.m. Participants will receive one CEU - NAADAC, Illinois: LCSW, LSW, LCPC, LPC, Nursing, Psychologist, IAODAPCA.
Registration in advance is required at Recovergatway.org/training and space is limited.
"Drug use among teens is particularly troubling because their brains are still developing," Cosgrove-McVey said. "Young people who abuse drugs and alcohol can suffer from declining grades, impaired learning and emotional development, while putting themselves at risk of addiction and incarceration."
Other drug trends to be discussed include MDMA, also known as Molly or Ecstasy, inhalants, cough syrup and dabs, an extraction of marijuana also known as wax, amber or hash—along with treatment options.
Reporters and Editors, for more information, please call Nicole Davolt, Marketing Coordinator, at (630) 717-2256.
About Gateway Alcohol & Drug Treatment Centers
Gateway Alcohol & Drug Treatment Centers provide substance abuse treatment services for teens and adults at drug treatment centers throughout Illinois and the St. Louis Metro East area. Gateway's outpatient and inpatient treatment centers are licensed by the state of Illinois and accredited by The Joint Commission. Each year, Gateway's professional clinicians help thousands of individual's successfully complete treatment. Learn more about Gateway's free, confidential consultation, call (877)505-4673.