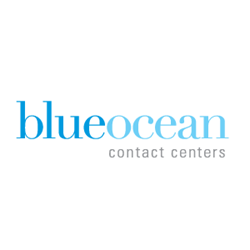 By adding incredible people like Elizabeth and Stephanie to the Blue Ocean team, our growth trajectory is well on the right track.
Halifax, Nova Scotia (PRWEB) January 18, 2016
Blue Ocean, an international outsourced contact center that has long serviced North America, is in the midst of expanding their widespread business development team with several key additions. Elizabeth Sedlacek will join as Director, Sales and Stephanie Small will join as an Account Manager. Both have extensive experience in the full spectrum of contact center outsourcing and will extend Blue Ocean's influence into new strategic locations.
Elizabeth Sedlacek possesses over 16 years of contact center outsourcing experience, nine of which were spent as Senior Director of Business Development & Client Care for a mid-sized, Canadian owned call center and BPO. Her leadership, deep knowledge of contact center operations and sales, and proven track record have helped her to establish individual accounts that earn millions annually.
Stephanie Small possesses over 6 years of experience in the outsourced contact center world. Her understanding of all the facets of call center accounts helped to grow successful divisions for her previous employer from scratch. Stephanie's knowledge of contact center management delivered success across their customer service support, tech support, and reservation divisions.
Both Elizabeth and Stephanie will add their expertise to a vibrant business development team with sales, marketing, and account management skills that already add value to client brands. Now, that team will span from Halifax to Toronto and Miami to Chicago.
"By adding incredible people like Elizabeth and Stephanie to the Blue Ocean team, our growth trajectory is well on the right track," said Mike Hasler, VP, Sales and Marketing of Blue Ocean Contact Centers. "Their work will augment the core competencies of our robust team, accelerating our expansion into new markets while staying true to our current clients."
For more information, please contact Amy Bennet, Director of Communications at 902.722.3312 or abennet(at)blueocean(dot)ca.
About Blue Ocean Contact Centers
Blue Ocean Contact Centers is an award winning Canadian Contact Center / Call Center, provider of innovative call center outsourcing services. We are creators of practical solutions to real problems that enhance the relationships our clients have with their customers. Blue Ocean Contact Centers provides the opportunity to strengthen and enhance these customer relationships and build lifetime loyalty leading to increased profitability.