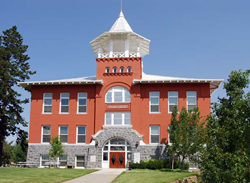 Douglas County Clerk's office looks forward to providing this new e-filing service. It is user friendly and convenient...a real time-saver for all! - Tristen Worthen, Douglas County Clerk
Goleta, CA (PRWEB) January 18, 2016
Image-X Enterprises created E-filing.com in 2000, and recently updated the electronic filing portal for Chelan County Clerk's Office. The company used their experience with document imaging and electronic filing systems to offer a solution that allowed the court to provide its own direct service, developing a portal that could then integrate with Image-X's previously utilized electronic file management system.
Now introducing a court-run electronic filing solution for Douglas County Clerk's Office, an alternative to "over-the-counter" filing. This state-of-the-art technology allows attorneys to process important legal documents electronically online. This eliminates the dread of driving to the courthouse and standing in line to file traditionally.
The transition to an electronic filing system will cut down on wasted time spent on all sides of the case filing process, freeing up attorneys, paralegals, and court clerks for more important business. In addition, Douglas County Clerk's Office will no longer have to waste the physical storage space required to house the mass volume of paper created by traditional case filing. Thus, the switch is both environmentally friendly and efficient.
President and CEO of Image-X, Mohammed Shaikh, confirmed the special nature of the new electronic filing system, saying, "The Douglas County Clerk's Office is entering the high-tech era that the judicial enterprises have been waiting for!"
Image-X Enterprises is a digital certificate authority, and has 25 years of experience with secure document imaging and storage services and electronic filing solutions. Headquartered in Goleta, California, the company serves multiple counties in Washington and other states.