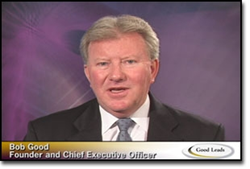 Salem, NH (PRWEB) January 22, 2016
Technology sales leads provider Good Leads® was selected by Quality Interactions of Cambridge, Ma. to assist in growing their sales pipeline for their innovative cultural competency eLearning courses in the healthcare market. Good Leads is a premium provider of Healthcare IT sales leads and will source new business opportunities for Quality Interactions in healthcare facilities throughout the United States.
Bob Good, CEO of Good Leads, in making the announcement said, "With our experience in representing healthcare IT firms, we know Quality Interactions will be a great partner with Good Leads and we can augment their sales pipeline growth. Our technology focused Prospect Builder® Program and methodology is well suited to grow their base of opportunities through our discovery and qualification processes."
"With experience in representing healthcare IT firms, we selected Good Leads based on their lead generation sector knowledge. We look forward to Good Leads delivering quality leads for our varied cultural competency eLearning courses" said Michele Courton Brown, Quality Interactions CEO. Good Leads' dedicated lead generation team will focus their efforts in a targeted healthcare approach.
About Quality Interactions:
Quality Interactions emerged as the forerunner in cultural competency training for healthcare organizations in 2003. They continue to lead the field by providing learning solutions that incorporate real-life scenarios and a research-based approach to cross-cultural communication. The company was founded by Drs. Joseph Betancourt, Alexander Green, and J. Emilio Carrillo, practicing physicians and thought leaders in cultural competency. Through their contributions to health policy and research, clinical practice, and the development of Quality Interactions, they have committed their careers to the mission of achieving high-value care for all patients. Their comprehensive approach builds professional skill sets in cross-cultural communication across all levels of any healthcare organization, and represents an investment toward enhancing the patient/customer experience, health outcomes, and financial performance. Quality Interactions can be reached at http://www.qualityinteractions.com 1-866-568-9918.
About Good Leads:
Good Leads® is a premier provider of sales and marketing, B2B lead generation, B2B sales leads and enterprise software business development activities for technology centric firms on a global basis with significant emphasis in the U.S. and Canada. Bob Good is CEO and Founder of the 13-year old firm. Good Leads specializes in executive level lead generation and appointment setting with international emphasis on supporting external corporate sales teams. Good Leads corporate headquarters is in Salem, NH with sales offices in Massachusetts, Maine and California. Good Leads can be contacted at 866 894-LEAD. http://www.GoodLeads.com