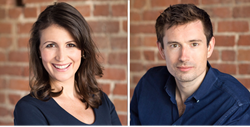 "It's been a pleasure working with Stephanie and Andy, and I am proud to now call them my Partners" said Jeff Clavier, Founder and Managing Partner of SoftTech VC.
Palo Alto, California (PRWEB) January 19, 2016
SoftTech VC, a leading early stage venture capital firm investing in B2B/Saas, Marketplaces, Connected Devices and B2C startups, has promoted two of its senior investment staff to Partners.
Stephanie Palmeri joined SoftTech VC in 2011 as Senior Associate after receiving her MBA from Columbia Business School. She was promoted to Principal a year later and has been spearheading SoftTech's investments in Marketplaces, Consumer Services, Education Technology and Digital Health. She's also responsible for leading investments on the East Coast. Over the last five years, Palmeri sponsored 18 investments and sourced several more - including Niche (acquired by Twitter in 2014), ClassDojo and Grovo.
"It's been a phenomenal journey leaving New York City after a decade and arriving wth two suitcases in Silicon Valley and serendipitously SoftTech's doorstep," Palmeri reflected. "I'm incredibly proud to have been a part of SoftTech's evolution over the past five years. And I'm extremely excited to join Jeff [Clavier] as a Partner and continue to invest in and support some of the world's most impactful founders and technology companies," she added.
Andy McLoughlin joined SoftTech VC in 2015 as Venture Partner, after co-founding London-based Huddle in 2006. He had moved to San Francisco in 2010 to open Huddle's US office and started angel investing at the same time. McLoughlin made 36 angel investments including Postmates, Intercom, Pipedrive, Bugsnag and Secret Escapes until he left Huddle. At SoftTech, McLoughlin sponsored and sourced a number of deals - including OnboardIQ and LaunchDarkly.
"It was a huge honor to join the team in 2015 and I've loved every minute of working alongside Stephanie and Jeff," said McLoughlin. "SoftTech VC's portfolio is absolutely first rate and I'm excited to continue finding, investing in and supporting incredible entrepreneurs."
"It's been a pleasure working with Stephanie and Andy, and I am proud to now call them my Partners," said Jeff Clavier, Founder and Managing Partner of SoftTech VC. "Stephanie has developed all the facets of a successful investor in the last five years, and contributed hugely to the SoftTech family and the broader ecosystem. Andy is one of the go-to early stage Saas investors in the Valley, and he has successfully made the transition from active Angel to VC."
SoftTech VC has invested in over 170 companies since its founding in 2004 and started investing its fourth fund, the $85M SoftTech VC IV, in 2013. In 2015, the fund has invested in 13 companies, existing SoftTech portfolio companies raised in aggregate $500 million in follow-on financing and the firm had its first portfolio company go public in 2015 [FIT:NYSE]. SoftTech's key sectors are Software As A Service (SaaS) – including mobile infrastructure and services, vertical SaaS and cloud infrastructure, B2C services and connected devices, and marketplaces.
About SoftTech VC:
SoftTech VC is one of the original micro VC firms, founded in 2004 and backing over 170 early stage startups. Based in Palo Alto and San Francisco, the firm manages three institutionally backed funds and invests in Silicon Valley, New York, Southern California, Boulder and Canada. SoftTech VC is among the most active investors in early stage B2B/Saas, marketplaces, connected devices and consumer Internet startups, consistently investing in 15 new opportunities a year. We seek great entrepreneurs, building differentiated products in large markets. More information available at http://www.softtechvc.com or follow us on twitter @softtechvc.
###