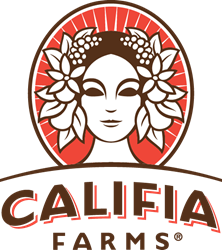 Our mission is to continue to innovate healthy and great-tasting beverages that make it easy for consumers to go 'plant-powered' and dairy-free
San Francisco, CA (PRWEB) January 18, 2016
Califia Farms, one of the fastest growing natural beverage companies in the United States, helped drive the wave that saw plant-based beverages and cold brew coffee experience widespread consumer adoption in 2015. With the launch of over 25+ plant-based beverages and cold brew coffee-based drinks in 2015, the Company doubled revenues, and increased distribution to 18,000 storefronts across both natural and conventional channels. Following on the heels of multiple awards for its brand and products in 2015, company CEO, Greg Steltenpohl, today received the Specialty Foods' 2016 Business Leadership Award at the Winter Fancy Food Show in San Francisco.
The panel of judges recognized Steltenpohl as a leader who has gone "above and beyond" in advancing food standards in society - and society itself - by creating social, economic and environmental impact through innovation and vision.
"2015 was a milestone year, not only for us, but for plant-based food and beverages in general," said Steltenpohl. "At Califia Farms, we are relentlessly focused on quality and innovation to deliver game changing plant-based beverages that taste delicious while being better for you and the planet."
"Further validating our mission to create healthy, lower-sugar, cleaner energy beverages is the recently released U.S. government dietary guidelines which recommend limiting sugar content to just 10% of your daily calories – pretty much the amount in one can of full sugar soda – and encouraging upping coffee intake to up to five cups a day," said Steltenpohl. "To make these healthy changes, food and beverage brands need to create products that Americans are happy to embrace at every level – including taste, price point and functionality."
A case-in-point is this week's launch of Califia Farms Better Half Creamer, a nut-based answer to the creaminess and functionality of traditional Half & Half. Available initially at Whole Foods Market, Better Half Creamer comes in Original and Unsweetened flavors and delivers a low-calorie (20 calories in Original; 15 calories in Unsweetened), non-dairy alternative to this indulgence, with no skimping on flavor or creaminess – and free from unnecessary ingredients and excess sugars.
Consumer interest in plant-based diets has expanded well beyond traditional vegan shoppers in 2015. In fact, in a recent survey of 2,500 consumers shopping for organic, natural and non-GMO food, a full 63 percent of respondents identified as "omnivores" and over half of those said they consumed plant-based milks several times a week mostly because they "like the taste" and it's "healthier than dairy milk."(1) According to Mintel, household penetration of non-dairy milks grew to 55% in 2015.
Califia Farms Almondmilks, which experienced 110% growth year over year(2), are playing a key role in this transformation to a more plant-based diet and the reported 40% annual growth(3) of almond milk sales. While competitors are seeing their share of sales drop, Califia Farms is increasing its share of the market.
Beyond Almondmilk, the Company also had a banner year in coffee with the launch of its Concentrated Cold Brew Coffee and a continued expansion of its RTD Cold Brew Coffee with Almondmilk, including the addition of unique flavor combinations such as Mocha Mexíca, Dirty Chai and a seasonal Peppermint Mocha. According to SPINS, Califia Farms is the number one RTD coffee in the natural channel, accounting for 37% of the natural category expansion, and overall sales grew 106% year over year(4).
And the product innovation continued with Latin-inspired Almondmilk Horchatas and Aguas Frescas refreshers, both offering traditional flavors but with much less sugar than conventional brands.
"Our mission is to continue to innovate healthy and great-tasting beverages that make it easy for consumers to go 'plant-powered' and dairy-free," said Steltenpohl. "Ultimately, our goal is to create beverages that both retailers and consumers are proud to have on their shelves. To this end, we recently completed a 100% carrageenan-free reformulation across our entire product line to address concerns some consumers were having with this natural thickener."
Califia Farms will be sampling its award-winning plant-powered beverages at the Winter Fancy Food Show being held January 17-19 at Moscone Center, San Francisco in booth #1482.
Join the conversation with @CalifiaFarms on Facebook, Twitter and Instagram.
About Califia Farms (pronounced "Cal-lih-FEE-ya," like California)
Inspired by the bounty of California, Califia Farms' (http://www.califiafarms.com) mission is to innovate delicious plant-powered foods for mindful nourishment. The Company is a leader in the revolution to de-commodify the food and beverage industry by creating innovative, healthy and great-tasting premium beverages that make it easy for consumers to go 'plant-powered' and dairy-free, without compromise. Founded in 2010 by a farmer's co-operative based in the San Joaquin Valley and headed by beverage visionary Greg Steltenpohl, Califia Farms is a uniquely California company. Its Bakersfield, Calif. manufacturing plant uses artisanal processes to create healthy and delicious plant-based beverages, is eco-friendly, energy efficient and repurposes more than 90 percent of its post-production byproduct. Califia Farms is one of the fastest-growing natural beverage companies in the U.S., as well as the leading brand in the natural products coffee drinks category. In 2015, Califia Farms was named "Brand of the Year" by BevNet and a "Breakout Brand" by Beverage World in 2015.
Califia Farms Media Relations
Melanie Webber, mWEBB Communications, (949) 307-1723, melanie(at)mwebbcom(dot)com
Elizabeth Johnson, mWEBB Communications, (213) 713-4865, elizabeth(at)mwebbcom(dot)com
(1) BerryCart/Califia Farms Survey
(2) SPINS/IRI, December 2015
(3) Packaged Facts, May 2015
(4) SPINS/IRI, 12.27.15