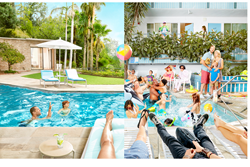 Dedicated vacation homes listed on HomeAway offer a better way to stay, so it is important to articulate the vacation rental experience and make it clear to travelers that we do not list shared properties
Austin, Texas (PRWEB) January 18, 2016
With the company's new "It's Your Vacation, Why Share It?"" integrated marketing campaign that launches worldwide today, HomeAway® is challenging travelers to book a whole house where families and friends have the space and privacy to enjoy their whole vacation.
The world leader in vacation rentals' new campaign builds upon its platform of "The whole house. The whole family. A whole vacation.™" and is intended to show humorously the many reasons why upgrading to a vacation rental far outweighs staying in a hotel or paying to sleep under the same roof as a complete stranger.
"Our new campaign demonstrates the problem of over-sharing, using humor to show how a whole house is an upgrade from status quo accommodations and sharing economy alternatives," said Mariano Dima, Chief Marketing Officer at HomeAway. "Holidays are precious, so every moment should be about sharing the right things with the right people to ensure a more holistic, private and memorable vacation. We want to show travelers what 'A Whole Vacation' does and does not look like."
HomeAway developed the ad and its "over-sharing" campaign in partnership with Saatchi & Saatchi, London. Comedy duo Tim Heidecker and Eric Wareheim, known for their series on Adult Swim, directed the television spot with voice talent from actor and comedian Nick Offerman. The television creative launches January 18, and the global integrated marketing campaign will reach consumers using a spectrum of media, including digital, social and TV.
National TV and digital campaigns in key global markets highlight the plight of over-sharing, with the most egregious offense being shared vacations with strangers – from toenail clippings and dirty bars of soap to overrun pools and overcrowded buffets, the ads explore the reality of staying at a hotel or sharing a home with a stranger.
"'Why Share It' is HomeAway's largest marketing effort to date, costing tens of millions of dollars," added Dima.
As a part of the campaign, HomeAway is launching the "It's Your Vacation, Why Share It" contest. Travelers can enter to win $5,000 towards a HomeAway vacation rental by completing the statement "While on vacation I want to share ______ but not share ______." and replying to the post about the contest on HomeAway's Facebook page.
ZenithOptimedia handled the media planning and buying. The ads will air in the U.S. on networks such as E!, HGTV and TBS as well as ITV, C4 and Sky in the UK, TF1 and M6 in France and Sat1 and RTL in Germany.
The creative will also be seen at the UEFA EURO 2016™ as HomeAway is the official fans accommodation sponsor for the European Football Championships, taking place in ten cities across France June 10 through July 10.
Reporter and editor's note: Creative assets and additional information can be found here.
Additional Quotes About HomeAway's "It's Your Vacation, Why Share It?" Campaign:
Brian Sharples, Co-Founder & CEO
"For more than a decade, it's been our goal to make every traveler in the world aware of vacation rentals. We are aggressively continuing that pursuit by showcasing how our owners and property managers create a second-to-none vacation experience for families and groups," said Brian Sharples, HomeAway co-founder and CEO. "By investing in marketing, we're helping travelers book their dream vacations, and our property owners grow their business as we capture an even larger portion of the $100 billion vacation rental industry."
Steven Stamstad, Global VicePresident of Brand
"Our new campaign demonstrates how a whole house solves the problem of an 'over-shared' vacation, using humor and contrasting true-to-life examples to help prompt travelers to consider HomeAway for their next trip. We believe the dedicated vacation homes listed on HomeAway offer a better way to stay, so it is important to articulate the vacation rental experience and make it clear to travelers that we do not list shared properties."
Kate Stanners, Saatchi & Saatchi Chief Creative Officer
"This campaign questions something fundamental about behaviors: that it's ok to share your precious holidays with people you've never met before. At a HomeAway vacation rental, you don't have to do that, and we wanted to showcase that benefit in a lighthearted and humorous way."
About Homeaway, Inc.
HomeAway, based in Austin, Texas, is the world leader in vacation rentals with sites representing over one million paid listings of vacation rental homes in 190 countries, and is a part of the Expedia, Inc. family of brands. Through HomeAway, owners and property managers offer an extensive selection of vacation homes that provide travelers with memorable experiences and benefits, including more room to relax and added privacy, for less than the cost of traditional hotel accommodations. The company also makes it easy for vacation rental owners and property managers to advertise their properties and manage bookings online. The HomeAway portfolio includes the leading vacation rental websites HomeAway.com, VRBO.com and VacationRentals.com in the United States; HomeAway.co.uk and OwnersDirect.co.uk in the United Kingdom; FeWo-direkt.de in Germany; Abritel.fr and Homelidays.com in France; HomeAway.es and Toprural.es in Spain; AlugueTemporada.com.br in Brazil; HomeAway.com.au and Stayz.com.au in Australia; Bookabach.co.nz in New Zealand, and Asia Pacific short-term rental site, travelmob.com.
HomeAway also operates BedandBreakfast.com, the most comprehensive global site for finding bed-and-breakfast properties, providing travelers with another source for unique lodging alternatives to chain hotels. For more information about HomeAway, please visit http://www.HomeAway.com.
© 2006-2016 HomeAway.com, Inc. All Rights Reserved.