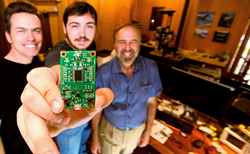 Now you can interact with Kickstarter creators through live streaming video.
Encinitas, CA (PRWEB) January 19, 2016
What happens when you combine live video with crowdfunding?
A new Kickstarter campaign for a product called SCIO intends to find out. They have figured out a way so people can talk to them on live video inside their campaign page.
"They get to ask us questions, LIVE, so they can understand everything the product can do," says Dr. Dan Graboi. "We believe that we have built something that can change the way people learn coding for computers and education in STEM fields. We can't wait to show the world."
Their product allows people to write programs to use sensors, work with the cloud, light 3D printed art and experience the joy of learning computer technology. Developed by world-class engineers and taught by world-class professors, SCIO is designed be picked up by anyone with no experience. The product also includes a subscription to ten instructional videos.
Dr. Graboi was a successful technology consultant who took two and a half years away from his job to build his Kickstarter project with his son, Mitch. "We found this new platform called Blab.im, and we tried to integrate it in to our campaign page. Once we got it to work and saw how people could talk back to us live on video, we knew we had just done something huge."
Dr. Graboi believes that this will create a dramatic shift in the way crowdfunding campaigns are run. "Once people can actually talk to the creators of these campaigns, you will see some pretty big changes. I know some campaigns where I'd love to talk to the people who build these products."
The current Kickstarter project with LIVE video can be found here: SCIO: The Fun New Way To Learn