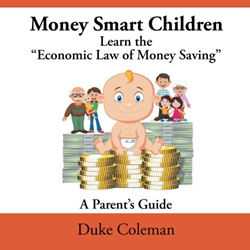 The first step in becoming money smart is realizing the mechanics of the money economy are already in motion and will not be stopped
SEATTLE (PRWEB) January 25, 2016
It's no secret millennials are growing up amidst difficult economic times. It may not be possible to fix all the financial problems for the next generation, but knowledge is power when it comes to building a better tomorrow.
That's the premise of the book, Money Smart Children Learn the "Economic Law of Money Saving". Author Duke Coleman translates complex financial ideas into short, simple concepts to motivate children and their parents to save and invest money.
"We live in an unbalanced money economy," Coleman said. "That means investing is highly likely to leave you doing very well later in life. At the same time, not saving is highly likely to leave you very bad off in years to come."
As a senior level engineer who often mentors colleagues, Coleman says he specializes in simplifying complicated matters related to mathematics, engineering, project management and economics. His book is designed as a companion book for children and adults to read and discuss, with the ultimate goal of alleviating stress related to finances.
"The first step in becoming money smart is realizing the mechanics of the money economy are already in motion and will not be stopped," Coleman said. "The only choice is whether you want to end up on the rich money side or the poor money side."
For more information, visit Amazon.com.
Money Smart Children Learn the "Economic Law of Money Saving"
By Duke Coleman
ISBN: 978-1-5144-1480-4
Available in softcover, hardcover, e-book
Available on Amazon, Barnes & Noble and Xlibris
About the author
Duke Coleman is a senior level mechanical engineer in the aerospace industry. He graduated with a master's degree from the University of Washington and lives near Seattle. Born to children of Irish immigrants who moved to America in the 1920s, Coleman has raised his three children to understand the principles related to achieving and sustaining financial wealth. His goal is for other people to learn early in life the importance of saving and investing.
# # #
**FOR IMMEDIATE RELEASE**
For review copies or interview requests, contact:
Liz Mensching
317.602.7137
lmensching(at)bohlsengroup(dot)com