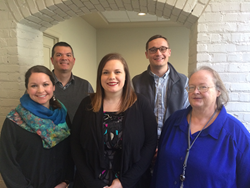 We're looking forward to the energy and experience the new hires will bring in the new year.
CHATTANOOGA,Tenn. (PRWEB) January 18, 2016
SIGNiX, a leading Independent E-Signature™ service provider, announced today recent additions to their business development team to accommodate an expanding customer demand. Paige Adams, Spencer Bradshaw, Meg Healy, Brandon Pickett and Hannah Detherow joined the SIGNiX team in January 2016 as business development executives, lead qualification specialist, sales engineer and application support specialist, respectively
"I am excited to welcome so many new team members," said SIGNiX CEO, Jay Jumper. "It's a privilege to work with the talented individuals that make up the SIGNiX team. We're looking forward to the energy and experience the new hires will bring in the new year."
The newest team members will report to Brian Felker, director of business development. "We're thrilled to welcome Paige, Spencer, Meg, Brandon & Hannah aboard during this exciting period of growth," says Felker. "They each bring a unique and diverse set of skills and experiences to the team and will be a big part of our future at SIGNiX"
Business Development Executive, Paige Adams, joins SIGNiX with a background in sales and customer service and will focus on verticals that include tax preparers, public sector and insurance. Spencer Bradshaw will focus on the healthcare and life sciences industry. Bradshaw is comfortable with high stakes and strict deadlines from a logistics background, which will allow him to navigate his new position successfully. "As a Business Development Executive, I can offer SIGNiX clients the most secure digital signature and my dedication to their success. I am prepared to put forth an excellent product."
Brandon Pickett will fill the role of sales engineer. His background in information technology sales will allow him to be the key technical advisor and product advocate. Pickett says he thrives when a challenge is presented by working with willing and able co-workers, like those at SIGNiX. Meg Healy joined the team as Lead Qualification Specialist. She is responsible for retrieving and generating leads to build and capitalize on client and partner relationships.
Hannah Detherow joins the SIGNiX team as Application Support Specialist to aid in answering any questions that may arise about the product and API integration. Detherow says that her experience has been a combination of "fire-fighting and hand-holding," referring to her background in IT customer service. Detherow looks forward to nurturing SIGNiX's growing client and partner base.
In addition to these new hires, SIGNiX has announced several promotions that occurred in product development, business development and partner development teams.
About SIGNiX
SIGNiX, the most trusted name in Independent E-Signatures™, makes signing documents online safe and secure with comprehensive legal evidence permanently embedded in each document to eliminate any dependence upon SIGNiX. The company's cloud-based service uses patented technology to give businesses and organizations the most secure and legally defensible e-signatures available at a fraction of the cost of wet ink signatures. SIGNiX's products help the world's leading companies become more efficient, secure, profitable and – by reducing the use of paper – environmentally friendly.
For more information, visit http://www.signix.com. Anyone interested in forming a partnership with SIGNiX to implement the best independent e-signature service for their business can visit http://www.signix.com/digital-signature-partnership, or call 800.653.3967.