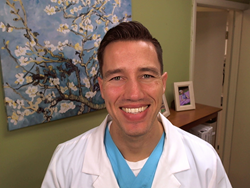 We look at each person as an individual. You can have 10 people with low thyroid symptoms, and each person will have 10 different problems. You cannot treat everyone with low thyroid symptoms the same, it is a huge mistake.
Hickory, North Carolina (PRWEB) January 19, 2016
Dr. Brad Shook recently attended a three-day intensive continuing medical education course offered by Apex Energetics, located in Irvine, California. Mastering the Thyroid addresses key issues in the diagnosis and management of thyroid conditions in healthcare practice today. The most common thyroid condition is Hashimoto's Thyroiditis, an autoimmune thyroid condition that has no specific treatment, and that affects approximately 1 in 8 women in the United States. Mastering the Thyroid has a strong emphasis on the emerging research base to identify effective interventions and to train doctors to naturally support the immune system, with the goal of improving the autoimmune process naturally.
The training Dr. Shook completed involves reviewing the etiology, prevention, and natural support of numerous types of thyroid dysfunction. Mastering the Thyroid covers an integrative, science-based healthcare approach that promotes improved health by focusing assessment on the biochemically unique aspects of each patient, and then individually tailoring interventions to restore physiological, psychological and structural balance.
With autoimmune thyroid conditions like Hashimoto's and Graves' disease, the functional medicine approach has been very helpful in dampening, and putting the autoimmune process into remission. By focusing on improving the autoimmune component of these thyroid conditions, the high and low thyroid symptoms associated with Hashimoto's and Graves's disease can frequently be improved. This type of "whole person" approach to autoimmune thyroid disease is achieved through the development of an individualized plan tailored to each individual.
Working in partnership with a doctor trained in functional medicine allows patients to investigate the drivers of their condition so that a plan can be developed to work on the factors exacerbating their immune system. Dr. Shook's training teaches him how to utilize advanced laboratory testing to investigate the causing factors of disease processes. Laboratory testing helps determine targeted dietary, lifestyle and temporary nutraceutical support to best facilitate patient outcomes.
The good news is: when you look at functionality, you uncover many different ways of attacking problems — you are not limited to the "drug of choice for condition X."
Dr. Shook can be reached at 901 Hwy 321 NW in Hickory, NC, and can be found online at DrBradShook.com. His office phone number is (828) 324-0800.