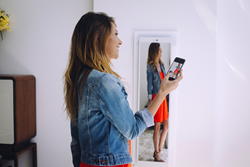 Over one-million selfies are posted every day and we believe it's time that the quality of these self-portraits evolves and catches up to the rest of tech innovation
New York, NY (PRWEB) January 25, 2016
EIFLE is reinventing the Selfie, making high-quality hands-free Self-Portraits possible with the launch of the EIFLE-S Smart Mirror on Kickstarter.
With the rise of Millennial Photography, the selfie is now widely considered a universal language. EIFLE will give people the ability to 'EIFLE it' instead of a just taking a selfie.
EIFLE revolutionizes social photo-sharing by delivering the freedom to pose and take hands-free self-portraits with the EIFLE App at any distance in front of the smart mirror. Applications include taking EIFLE's in beauty salons, fashion retail, hotel rooms, fitness clubs, holiday and family gatherings, or at home with friends.
"The first thing almost everyone does these days when they're having a great time with friends, or experiencing a new exciting place, or enjoying a big event, is take a selfie," said Leonard Adams, EIFLE CEO. "Studies show it's the feeling of instant confidence that drives people to capture moments and memories. Now you can 'EIFLE it' in front of our smart mirror without your arm in the shot and without an unbecoming distorted result. Over one-million selfies are posted every day and we believe it's time that the quality of these self-portraits evolves and catches up to the rest of tech innovation."
With EIFLE's patent pending technology and complete product line, awkward poses are eliminated. Over-sized heads, close-up bright flashes, double chins and all of the bad results that come from shooting an arms-length away are gone. People can now pose in front of a smart mirror the same way they would pose for a non-selfie. EIFLE takes the exact image that users see in the mirror, so there is no more guessing.
How it Works:
Within a stylish full-length mirror lies a pro-grade camera and integrated hardware that's paired with EIFLE's mobile app that controls the smart mirror. It takes instantly shareable high-quality full-length self-portraits that capture the exact image a user sees in the mirror.
There's a long list of benefits when you 'EIFLE it':

No need for awkward distorted close-ups
Selfie sticks are so 2014
Image conscience professionals can save time and take pro looking profile pics
No need for wordy texts asking "what's the dress code" for a meeting/gathering/event. Just 'EIFLE it', text "this ok for tonight", and share
EIFLE an outfit in a changing room & share with a friend or spouse for quick feedback
Great for fun group shots at parties or family get-togethers
A fun perk for guests at events, fundraisers, etc - have a smart mirror at the event so guests can 'EIFLE it'
Send an EIFLE to that special someone that looks the way you want it to without the limitation of the length of your arm or timed shot
'EIFLE it' for anything you can imagine, as if you always had a photographer standing-by
Fitness pics – 'EIFLE it' to show off your improving physique
EIFLE is available for pre-order now on Kickstarter.
ABOUT EIFLE
Based in New York City, EIFLE is a tech company that's revolutionizing the modern self-portrait with the introduction of the world's first smart mirror, the EIFLE-S. EIFLE is introducing three models - each engineered to serve a separate specialty purpose. Over the next three years EIFLE aims to capture 6-8% of the rapidly growing millennial, self-portrait market which has generated revenues in excess of $300-billion. EIFLE it!