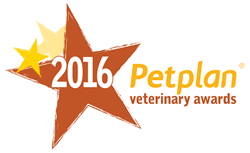 Newtown Square, PA (PRWEB) January 18, 2016
More than 4,800 nominations for Petplan's 2016 Veterinary Awards poured in from every corner of the U.S. and Canada, but in the end, just six winners took home all the bones. Petplan hosted the fifth annual Veterinary Awards Dinner on January 16 at Orlando's Four Seasons Resort, in tandem with the North American Veterinary Conference. The event shines a deserved spotlight on outstanding veterinary professionals across North America.
The winners revealed at this year's gala are:
Practice of the Year
Metzger Animal Hospital – State College, PA
Veterinarian of the Year
Dr. Sean Aiken, Veterinary Specialty Hospital of San Diego – San Diego, CA
Practice Manager of the Year
Jody Weaver, CVT, Rau Animal Hospital – Glenside, PA
Veterinary Technician of the Year
Annette Kim, RVT, Abbotsford Animal Hospital – Aurora, ON
Receptionist of the Year
Crystal Dawson, Northpointe Animal Hospital – Lynnwood, WA
Pet Parent of the Year
Erin Kowalski, Bialy's Wellness Foundation and AURA Natural Pet, LLC – Chicago, IL
Nominees in each category were submitted by both professional peers and clients and then each completed a rigorous application process to accept their candidacy. Organizers narrowed the pack down to six semi-finalists per category and then an independent judging panel chose three to advance to the finalist round. Judges included North America's most talented veterinary professionals, several of whom are award winners from past years.
Winning professionals received their awards at the Veterinary Awards Dinner, which was emceed by Dr. Jules Benson and included a keynote address by Dr. Andy Roark. Each winner received a $1,000 cash prize, a $1,000 donation to a pet-focused charity of their choice and prizes from Merck, Nutramax, Barkbox and more. More than 200 guests attended the event to see the winners announced.
"Once again we were humbled and honored to recognize the exemplary effort and tireless passion these professionals bring to their work," says Petplan co-founder and co-CEO Natasha Ashton. "I'd like to congratulate the winners and thank all nominees for taking part."
Now in its fifth year, the Petplan Veterinary Awards honor the important work of America's veterinary professionals, who go above and beyond providing pets with exceptional care and clients with outstanding customer service. Petplan also presented the first annual Veterinary Team Appreciation Week this year, with support from the American Animal Hospital Association (AAHA), the North American Veterinary Community (NAVC) and the National Association of Veterinary Technicians in America (NAVTA). Created to celebrate the passion and dedication veterinary teams bring to their work, Veterinary Team Appreciation Week is the first event to recognize the entire staff of practices and hospital clinics. The celebration runs from January 17-23.
To learn more about the 2016 winners or nominate a pet health hero for the 2017 awards, please visit Gopetplan.com/vet-awards.
###
ABOUT PETPLAN
Petplan is more than a pet insurance provider. We're dedicated to giving pet parents the support, resources and tools they need to keep their pets not just surviving—but thriving—into old age. Simply put, we aim to be the kind of company that will make our pets proud. For the third consecutive year, Petplan was listed among the top 50 of Forbes' annual ranking of America's Most Promising Companies – a list of 100 privately held, high-growth companies with bright futures. Petplan is the only pet insurance provider to have been included on Inc. Magazine's list of 500 fastest-growing, privately held companies in America.
Petplan's fully customizable cat and dog insurance policies provide comprehensive coverage for all hereditary and chronic conditions for the life of the pet as standard. Petplan policies are underwritten by AGCS Marine Insurance Company in the U.S. and by Allianz Global Risks US Insurance Company in Canada. The Allianz Group was rated A+ by A.M. Best in 2015. For more information about Petplan pet insurance, visit http://www.petplan.com or call 1-866-467-3875.
ABOUT PETPLAN'S VETERINARY AWARDS
Now in its fifth year, the Petplan Veterinary Awards honor the important work of North America's veterinary professionals who go above and beyond, providing pets with exceptional care and clients with exceptional customer service. Petplan is proud to carry on the tradition of rewarding excellence in veterinary medicine fostered by our sister company, Petplan UK, whose own Vet Awards are Britain's pre-eminent industry celebration. For more information about Petplan's Veterinary Awards, please visit http://www.GoPetplan.com/vet-awards.