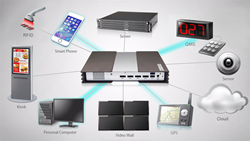 We are prepared to work with SI's around the world to think outside the box, and extend beyond limits. - Andrea Lin, CAYIN's International Sales Manager
Taipei, Taiwan (PRWEB) January 20, 2016
Digital Signage has evolved in the past year faster than ever. While some opt for dynamic billboards, many are exploring the possibilities of various integrations between Digital Signage and other solutions. At this year's much anticipated Integrated Systems Europe (ISE) trade show in Amsterdam, Netherlands, CAYIN will be presenting some of its easy-to-adopt creative solutions for system integrators in Europe and beyond, from February 9th to 12th, at booth 8-R245.
By showcasing its seamlessly integrated Digital Signage solutions, CAYIN allows users to experience existing technology in whole new perspectives. Visitors will get a peek at some of the integration developments aimed for various business application purposes, including flexible video wall solutions and queue management systems.
Andrea Lin, international sales manager of CAYIN Technology, said, "CAYIN wants to share innovative ideas that can be achieved by incorporating digital signage solutions with various technologies. CAYIN has been developing solutions to meet market needs, and is prepared to work with SI's around the world to think outside the box, and extend beyond limits."
System integrators are encouraged to join and discuss the great potential in empowering the concept of IoT (Internet of Things), so be sure to check out CAYIN's booth at ISE this year- inspirations are guaranteed.
CAYIN @ ISE 2016
Date: 2/9-2/12/2016
Venue: Amsterdam, RAI, NL
Location: Hall 8 / Booth 8-R245