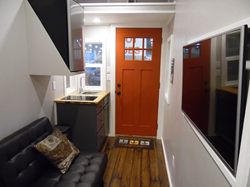 It's our pleasure to share reliable information on how to build a tiny house
Pleasant Grove, UT (PRWEB) January 20, 2016
With interest in tiny homes growing all the time, it's only natural people with a DIY "do it yourself" spirit would be exploring and experimenting with putting them together, themselves. Fortunately, thanks to Upper Valley Tiny Homes based out of Utah, the information on how to build a tiny house is not only available, but will also become much more simple to locate. Recently, the company announced they will be adding a how to build a tiny house section on their popular website, which will act as an archive for the growing number of videos the company has released on the subject. The tiny home community has responded with enthusiasm to the news.
"It's our pleasure to share reliable information on how to build a tiny house," commented a spokesperson from Upper Valley Tiny Homes. "There's many things to consider and no one wants to waste time, energy or money on putting together something that's not liveable or go over budget due to simple mistakes that can be avoided. We're here to help."
According to the company, the archive will feature not only old videos produced by the company on the subject of building a tiny home, but will also be updated with new videos as time and demand permits. The experts at Upper Valley Tiny Homes are always ready to answer a good question and welcome feedback from their peers and others interested in knowing how to build a tiny house.