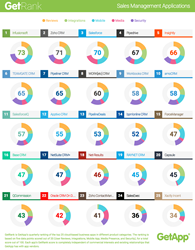 (PRWEB) January 19, 2016
Cloud-based business apps marketplace GetApp has released its Q1 2016 ranking of the top sales management solutions: Infusionsoft came in at number one, while heavy hitters Zoho CRM and Salesforce came in at number two and three, respectively.
Adding to its growing list of Customer Success software rankings, this is the first sales management ranking from GetApp since launching GetRank in April 2015. Aimed at small and mid-sized business owners, the ranking gives an opportunity for a first-look at some of the most popular software choices in different product categories.
User reviews, mobile app availability, security, media presence, and software integrations are included as the five key data points used to rank an application.
User-generated reviews and integrations are calculated using data listed on GetApp, while security scores come from vendor responses to a security survey based on the Cloud Security Alliance Self-­Assessment Form. Mobile platform data is captured from Google Play and the Apple App Store, while media scores are calculated using the number of Facebook followers and Twitter fans a vendor has.
Each data point is scored out of 20 for a total possible score out of 100. Infusionsoft pulled in the highest score all around to nab first place in the category, while Salesforce outshined the competition when it came to integrations and media presence, scoring a 20 for both data points. Pipedrive and Salesforce IQ both scored high for reviews, each with 19 points, while Workbooks CRM came out as the most secure sales management app on the list. But it's the mobile score, where Base CRM excelled with a 20/20, that's key for a sales management solution.
"Sales management is a competitive category because there is such large number of solutions to choose from. One of the most notable trends is the necessity of having a mobile app version of the sales software. For a salesperson constantly on the go, having access to customers, leads, and opportunities on whichever device they're using is essential. This is reflected in mobile app scores, which indicate that almost every application in the category has both an iOS and Android application," says researcher and GetRank project manager Suzie Blaszkiewicz.
Click through to see the entire Q1 2016 GetRank of top sales management software solutions.
More about GetApp: GetApp, a Gartner company, is the leading premium business app discovery platform on the web. Headquartered in Barcelona (Spain), GetApp serves as a platform for user-generated and editorial reviews of software and apps for businesses.