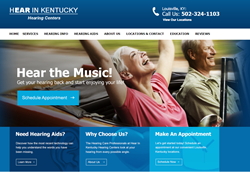 Louisville, KY (PRWEB) January 18, 2016
To ensure top performance and a long life, hearing aids require consistent maintenance and care. To help patients better maintain their hearing aids, Hear In Kentucky has released a short guide titled Tips for Taking Care of Your Hearing Aids.
Hear In Kentucky suggests that its patients incorporate hearing aid care and maintenance into their daily and nightly routines so that it becomes automatic and consistent.
First, it's important to clean the hearing aids daily to prevent the accumulation of dirt, wax, and other debris from becoming lodged within the different components. Hearing aids should be cleaned with a soft, dry cloth, and liquids should be avoided to prevent damage to the sensitive electronics.
To assist with cleaning, patients should consider purchasing a hearing aid sanitizer, which uses ultraviolet light to kill dangerous pathogens and provides a place to store the hearing aids while not in use.
Hear In Kentucky provides several other useful tips in the guide, including caring for hearing aid batteries, storing the hearing aids in a safe place, maintaining ear hygiene, and the method for properly inserting the hearing aids into the ear.
Hearing aids, despite consistent care and maintenance, will periodically require professional cleaning and sometimes repair. That's why it's important to have hearing aids professionally cleaned and checked at least twice a year to ensure top performance. For more information, or to schedule a thorough cleaning, visit http://www.hearinkentucky.com.
About Hear In Kentucky
Hear In Kentucky is a local hearing care practice that has been serving the Louisville area for the past 20 years. The practice helps members of the local community hear better, live better, and reconnect with loved ones.
Contact:
Greta Ratliff
Hear In Kentucky
502-324-1103
http://www.hearinkentucky.com