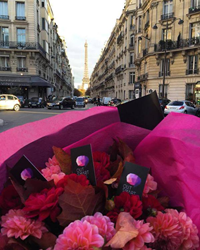 "Our growth has been very fluid due to a pressing demand for digital strategy." - David Azar
Miami, FL (PRWEB) January 19, 2016
Following their tremendous growth in 2015, Outsmart Labs has decided to expand their digital marketing presence even further. With more than 30 clients in industries such as sports, film, technology and ecommerce, and having tripled their staff in the last year, Outsmart Labs is building even deeper relationships with clients that are looking for a strategic digital marketing agency partner. Headquartered in Miami with teams in Ecuador, Outsmart Labs spent the last few months opening their new Parisian office.
With the knowledge they gained in the United States coupled with successful strategies implemented in France, it was obvious that the French market represented a tremendous opportunity for continued growth. The team realized that expanding to Paris allowed them to:

Monitor new strategies discovered in the U.S. and enhance them for their clients.
Integrate a native understanding of French culture allowing them to bridge any gaps between the U.S. and French markets.
Become more responsive to clients with team members of various backgrounds working in different time zones.
After careful planning, the owners decided to take the leap.
"Our growth has been very fluid due to a pressing demand for digital strategy. With this, we quickly realized that it was necessary to have a larger & more local presence in France, so we could offer a more comprehensive service," says David Azar. Founder & CEO of Outsmart Labs. "We knew we could connect with some of the top tech talent in France to foster strategic alliances in the industry."
Outsmart Labs' new office is located in the heart of Paris next to Bourse (Paris' version of Wall Street). This once upon a time financial hub is now the equivalent of California's Silicon Valley hosting and nurturing up-and-coming technology start-ups.
"It was time to offer our expanding portfolio of French clients a closer relationship with the business. We also saw a lot of opportunity to reconnect with France," explained Kouros Armandeh, Founder & COO of Outsmart Labs. "We also partnered with one of Paris' leading international public relations firms, Liliane Fretté
Communication, to help expand our array of services."
The Paris office officially opened in November 2015 and Outsmart Labs is looking forward to becoming one of the main players in the French digital landscape.
Outsmart Labs is a digital advertising agency headquartered in Miami, FL. They specialize in services such as search engine optimization, website design, digital content strategy and social media management. Their clients want to grow, scale and position themselves as leaders in their space. For that reason, innovation and experimentation are crucial to their promise. For more information, visit http://www.OutsmartLabs.com or call (305)-671-3504.