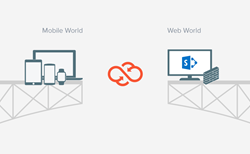 Our RAPID services for Microsoft allow enterprises to have truly cloud-first and mobile-first without lengthy and expensive upgrade cycles
Boston, MA (PRWEB) January 22, 2016
Kinvey (http://www.kinvey.com), the leading enterprise mobile Backend as a Service, today announced new capabilities to its out-of-the-box RAPID Connectors to support on-premises Microsoft enterprise products like SharePoint™ and SQL Server™. These RAPID connectors allow organizations to make their existing on-premises SharePoint and SQL Server deployments truly cloud-first and mobile-first. By using RAPID and its data security and acceleration features, owners of SharePoint and SQL Server can manage how apps can connect to their systems in a secure and compliant manner, while providing mobile developers abstraction and sub-second speed for data access, even if the existing enterprise systems are not tuned for a low-latency mobile user experience.
Watch a video demo of Kinvey's SharePoint RAPID connector.
According to Gartner, backend integration is typically 70% of all app development cost. Integrating an app with SharePoint or SQL Server is no exception. SharePoint and SQL Server:
● Require mobile developers to have deep knowledge of data access methods and languages
● Are not optimized for quick data access or offline operation
● Must be made robust enough to handle the large scale of mobile deployments
● Require extensive testing and QA to ensure compliance and security
By contrast, Kinvey's SharePoint and SQL Server RAPID Connectors can be launched in minutes with a no-code "configure and go" setup. Developing a mobile app against Kinvey's RAPID services requires no specialized knowledge of the backend systems, so IT departments can make these systems instantly available and allow mobile developers to start building apps in a self-service manner.
The connectors also let IT departments add cloud caching and offline capability to SharePoint and SQL Server deployments with just a few lines of code, enabling the sub-second performance times demanded by mobile experiences instead of the tens of seconds expected with SharePoint and SQL Server on their own.
"Our customers using SharePoint were telling us Microsoft was recommending year-long, lift-and-shift migrations to Office 365 or asking them to pay for new product upgrades in order to gain the capabilities and performance their mobile projects required," said Sravish Sridhar, CEO of Kinvey. "With the demand for enterprise mobile apps exploding, that's just not a feasible option. Our RAPID services for Microsoft on-premises applications allow enterprises to have truly cloud-first and mobile-first SharePoint and SQL Server deployments today, without lengthy and expensive upgrade cycles."
As Kinvey is a managed service, the SharePoint and SQL Server RAPID connectors also require no management or maintenance overhead, and can be scaled up or down instantly to meet the elastic demands of mobile deployments. And with built-in end-to-end encryption, the connectors allow IT to extend access to these on-premise systems in a secure and compliant fashion, without worrying about mobile developers introducing security vulnerabilities.
RAPID connectors for SharePoint and SQL Server are available today on the Business and Enterprise editions of the Kinvey platform. Watch a video demo or contact Kinvey to learn more.
(1) Gartner Application Architecture, Development and Integration Summit, Picking the Best New Mobile AD Tech.: MBaaS and RMAD. Richard M Marshall and Van Baker, December, 2015. Slide 9.
About Kinvey
Kinvey is the leading enterprise Backend as a Service (BaaS) platform that helps enterprises, agencies, and developers launch successful and engaging apps. Kinvey provides comprehensive support for native, hybrid, and mobile Web applications and out of the box enterprise capabilities including identity management, integration with enterprise data sources and a data store and file store for new mobile data, ability to run customized business logic, and a rich set of mobile engagement services. Kinvey runs in a multi-tenant cloud or in a dedicated public or private cloud. On average, Kinvey customers launch applications twice as fast and at half the cost of traditional methods. For more information, visit http://www.kinvey.com.