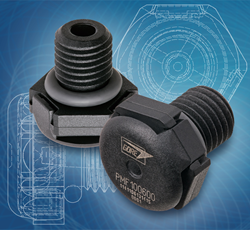 GORE® PolyVent XS is truly an excellent fit for small enclosures. It packs a high level of performance into a very compact vent design.
Elkton, MD (PRWEB) January 19, 2016
W. L. Gore & Associates announces the launch of its compact, low-profile GORE® PolyVent XS, designed for easier integration into small (up to 2 liter) outdoor electronic enclosures.
The newest addition to GORE® Protective Vents Screw-In Series, GORE® PolyVent XS was developed to meet the growing need – in industries like telecom, lighting and solar – to design increasingly complex electronics into ever smaller, ever lighter outdoor enclosures, and to more easily integrate robust venting performance that protects devices reliably and with longevity in the face of harsh environmental conditions.
"At Gore, we focus on a product's 'fitness for use' in a given application," said Product Line Manager John Zhao. "And GORE® PolyVent XS is truly an excellent fit for small enclosures. It packs a high level of performance into a very compact vent design to reliably protect the integrity of enclosures with up to 2 l (2 liters) in volume. The new GORE® PolyVent XS is also well-suited for applications requiring a venting solution that will not compromise the overall design."
Enhanced design options and easy integration
This new compact, low-profile GORE® PolyVent XS offers engineers more design options, because it optimizes three critical dimensions:
--A smaller diameter (just 11.2 mm) makes GORE® PolyVent XS easier to integrate into smaller housings, particularly those with small installed clearances. And, the extra space on the housing exterior can often be used to add heat transfer fins or other accessory parts that enhance performance.
--The lower installed height (4.5 mm) means less external protrusion, which helps enclosures fit in the tightest spaces and reduces vulnerability to mechanical impacts.
--The short thread height (7 mm) means the vent intrudes less deeply into the enclosure, which provides more flexibility in component layout. Shorter thread height can also enable the use of thinner enclosure walls to reduce enclosure weight and material costs.
Robust performance to rigorous standards
Despite its compact size, the new GORE® PolyVent XS offers notable advantages in the field – all designed to help small outdoor enclosures withstand harsh environmental conditions:
--Added flammability protection: GORE® PolyVent XS is the first vent in the Screw-in Series to incorporate the new UL 94 V-0-rated GORE™ Membrane. This innovation, combined with Gore's UL 94 V-0-rated vent body, cap and O-ring materials, provides comprehensive flammability resistance. This means added safety for high-value telecom or lighting products, and can spare manufacturers the time and expense of flammability validation testing.
--Robust performance: GORE® PolyVent XS meets other rigorous industry standards, including the Random Vibration test (IEC 60068-2-64 and ETSI EN 300 019-2-2) and resistance to degradation by Ultraviolet Light (UL 746C). The screw-in design also ensures a secure, durable attachment to the housing.
--Reliable ingress protection: The GORETM Membrane of 100% ePTFE provides lasting oleophobic and hydrophobic protection. With typical airflow of up to 300 ml/minute (dp = 70 mbar), this new vent provides rapid, reliable pressure equalization in outdoor enclosures up to 2 l, while meeting IP66, IP67 and IP68 (1 hour immersion at 2 m) standards.
While GORE® PolyVent XS offers new advantages in terms of size and capabilities, one thing that has not changed is the focus on reliability. According to Technical Manager Boris Su, "With GORE® PolyVent XS, reliability is assured, because the quality is built in. Each vent is laser-marked, and individually inspected before shipment, so customers can have 100% product traceability and full confidence in our venting performance."
For more information about the GORE® Protective Vents product portfolio, visit gore.com/protectivevents or call 1-800-523-4673 (USA).
About W. L. Gore & Associates, Inc.
Gore is a technology-driven company focused on discovery and product innovation. Well known for waterproof, breathable GORE-TEX® fabric, the company's portfolio includes everything from high-performance fabrics and implantable medical devices to industrial manufacturing components and aerospace electronics. Founded in 1958 and headquartered in Newark, Delaware, Gore employs more than 10,000 associates with manufacturing facilities in the United States, Germany, the United Kingdom, Japan and China, and sales offices around the world. Gore is one of a select few companies to appear on all of the U.S. "100 Best Companies to Work For" lists since the rankings debuted in 1984. The company also appears regularly on similar lists around the world. Learn more at gore.com.