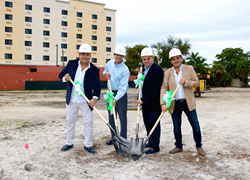 Naples, FL (PRWEB) January 26, 2016
The Naples Hotel Group, a leading owner, operator and hotel management company for nearly 18 years, announced today the groundbreaking of the TownePlace Suites by Marriott at Miami International Airport. Naples Hotel Group has the contract to oversee development and management with owners Hotelex Airport, LLC. As part of the contract, NHG will lead in the overall development of the project from design through to construction and manage all aspects of the opening and operations. The general contract for the building has been awarded to Seawood Builders.
The hotel is located near the southeast entrance of the airport on NW 11th Street. The hotel will have 165 guest rooms and on-site parking. It also boasts an expanded lobby with a full-service bar, a pool and fitness area. Hotel anticipates an opening in February 2017.
For more information or media inquiries, please contact Brittany Bou-Sliman at brittany(at)napleshotelgroup(dot)com or 239-206-4273.
About Naples Hotel Group
Naples Hotel Group is an independent owner, operator, and third-party management company of hotels founded in 1999. They have achieved superior results and have a proven ability to enhance the performance of hotels through the use of their experience, responsiveness and extensive resources. The family-owned hotel management and development company offers a uniquely hands-on approach to hospitality, whether properties are new or acquired. NHG, located in Naples and Orlando, FL, prides itself on building long-term relationships with quality people and organizations. To learn more visit, http://www.napleshotelgroup.com.