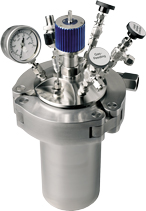 High-quality materials, ease of use and safety make Berghof pressure reactors a product JULABO is proud to represent
Allentown, PA (PRWEB) January 18, 2016
JULABO USA, Inc. is now the exclusive North American distributor of Berghof GmbH pressure reactor systems. Berghof pressure reactors offer modularity and flexibility in synthesis with reactor systems.
Two reactor series are available: the BR high pressure reactors enable reactions to 200 bar up to 300 °C in volumes from 25mL to 4L; the NR low pressure reactors are rated to 25 bar to 300 °C in volumes from 1.5L to 40L. Both reactor series are available in 316 stainless steel and Hastelloy with options for other materials upon request.
Berghof offers a proprietary PTFE liner option in both reactor series. PTFE exhibits unsurpassed resistance to nearly all chemicals resulting in a 100% inert reaction environment with pressures to 200 bar for operation to 230 °C.
The reactors feature easy handling via a fast closure clamping ring or quick chain mechanisms without the need for a wrench and a torquing procedure.
"High-quality materials, ease of use and safety make Berghof pressure reactors a product JULABO is proud to represent" said Ralph Juchheim, President of JULABO USA, Inc. Berghof celebrates 50 years of quality products in 2016.
Contact JULABO for additional product information or view the products on their website at http://www.julabo.com/us/products/reaction-solutions/berghof-pressure-reactors.