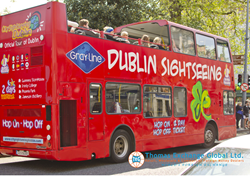 Thanks to Star Wars VII, Ireland's ancient Eastern part will be the key marketing theme of upcoming promotions
London,UK (PRWEB UK) 27 January 2016
Tourism Ireland is forecasting a record number of tourist arrivals in 2016 with an estimated 8.2 million visitors. This Star Wars effect will bring an economic benefit of Euro 4 billion, according to the report. Thanks to Star Wars VII, Ireland's ancient Eastern part will be the key marketing theme of upcoming promotions.
Britain is Ireland's largest tourist market with a share of 40% of total visitors and a YoY increase of 11% in 2015, which signifies the popularity of the Emerald Isle among UK tourists. Working on their successful foundation, the island is planning an ambitious campaign to increase the number of tourists to over 8 million in 2016. With the UK being the largest tourist market for Ireland, Thomas Exchange Global is offering the most competitive travel money package for the Euro to meet the demand of UK travellers to Ireland.
"Ireland is a very popular destination among British tourists. It's very close to home, has a similar culture and the almost negligible air fare make Ireland a special place for Londoners, especially when choosing a short break or a weekend escape," stated Trevor Samuel, Senior Manager for Thomas Exchange Global. "Dublin being twice voted as the friendliest city in Europe, a visit to Ireland will be staying at home away from home."
Thomas Exchange Global, with 11 branches in London and a next day delivery service, offers the most competitive exchange rates for the Euro. In addition, they hold the widest range of foreign currencies in London as 120 types of bank notes can be bought or sold at their stores and most of these currencies are instantly available without any waiting time.
"Ireland is a place for greenery, nature and history. Keep sufficient Euro with you as ATMs may not be available in the best of locations, which is mostly remote," concluded Trevor.
About Thomas Exchange Global
As dedicated foreign exchange specialists, Thomas Exchange Global has the professional expertise, in depth market knowledge, technological infrastructure and commitment to provide an unprecedented level of service that sets the standard in the foreign exchange industry. They are specialists in all areas of foreign exchange. They provide commission free currency as well as travellers cheques.
Thomas Exchange Global also offers International Money Transfer Service where funds can be remitted to overseas bank accounts within one to two days. With commission free service for transfers over £10,000 backed by competitive exchange rates, customers are assured of a better deal and a substantial saving compared to banks and money brokers. Thomas Exchange Global branches are located at Strand, Embankment, Victoria Place (Victoria Rail Station) Victoria Street, Liverpool Street, High Street Kensington, Hammersmith, Canary Wharf, Cannon Street, Wormwood Street and Richmond.