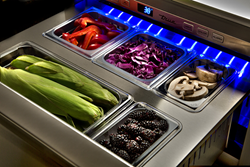 "With the product launches this year, we continue to round out our full suite of commercial-kitchen inspired refrigeration products for the home," said True Director of Sales and Marketing Steve Proctor
ST. LOUIS, MO (PRWEB) January 19, 2016
True Refrigeration®—the leading choice of top chefs, hotels, beverage providers and discriminating homeowners for more than 70 years—is exhibiting all-new products at the Kitchen & Bath Industry Show (KBIS) from Jan. 19-21, 2016 in booth #N663. True Residential® displays its American-made, luxury refrigeration products for the home, including one debut that marks True's entrance into a brand new category.
"With the product launches this year, we continue to round out our full suite of commercial-kitchen inspired refrigeration products for the home," said True Director of Sales and Marketing Steve Proctor. "We look forward to sharing these new products with everyone in attendance at the world's largest show for the kitchen and bath industry."
TWEET THIS: The @true_res booth N663 at @KBIS2016 debuts two new products & enters into an all-new category. http://bit.ly/1ExEX95 #KBIS2016 #DCW2016
Borrowing from its more than 70 years of expertise and commercial heritage, True showcases the best in luxury home refrigeration products, including:
--Undercounter Freezer: True expands into a new brand category by introducing its 24-inch Undercounter Freezers as the industry's first residential undercounter freezers that are UL-rated for both indoor and outdoor use. The freezers are made from industry exclusive 300-series stainless steel and keep food at temperatures as low as minus 5 degrees Fahrenheit.
--The True 48: The latest addition to the True Residential refrigeration line, this 48-inch side-by-side refrigerator-freezer complements The True 42 and features increased refrigerator storage space for preserving vast quantities of fresh produce. The True 48's all-stainless interior and exterior ensures a hygienic and easy-to-clean surface, with dramatic ramp-up interior lighting designed to showcase—not just reveal—its contents.
--Drawer Pan Kit: These elegant stainless steel inserts mimic the ingredient stations that top chefs use in their commercial kitchens, allowing for an almost Zen-like connection to the art of food preparation and home entertaining. The Drawer Pan Kit can hold up to six different ingredients at once, making elements such as freshly chopped vegetables, meats, and par-cooked ingredients instantly accessible.
--Clear Ice Machine: No longer do homeowners have to worry about running out of ice while entertaining. UL-rated for both indoor and outdoor use, the Clear Ice Machine is capable of producing an impressive 70 pounds of ice per day and can store up to 28 pounds. In addition to producing the most ice per day, its energy efficiency is unmatched as it is the only residential 15-inch undercounter clear ice machine that qualifies for Energy Star.
To set up an interview with Steve Proctor during the show, please contact Luis D. Sosa at 916-285-9835. For more information about True Residential, please visit true-residential.com.
# # #
Media Notes
Related Links:
True Residential Website
KBIS Website
About True Residential
True Residential is a division of True Manufacturing Company. For more than 70 years, True® has been an industry leader in commercial refrigeration. Now, homeowners can experience that same quality with True Residential, an authentic commercial refrigeration line refined for the home. Handcrafted in the USA with the same meticulous attention to quality and detail industry professionals demand, the residential series includes award-winning wine cabinets, refrigerators, beverage centers, refrigerator drawers and beer dispensers. For more information about True Residential, call 888-616-8783 or visit http://www.true-residential.com.
About Kitchen & Bath Industry Show (KBIS)
KBIS, in conjunction with the National Kitchen and Bath Association (NKBA) is an inspiring, interactive platform that showcases the latest industry products, trends and technologies. This event is the voice of the kitchen and bath industry and has been for 50 years. KBIS 2016 will host 500+ leading brands in the kitchen and bath industry, including 40 new companies, spanning across two halls. No other event offers an interactive look at the top brands, the ability to compare products side-by-side and get answers straight from the manufacturer.