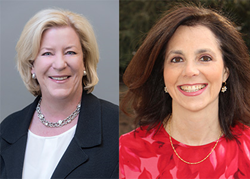 "Delivering real estate value to hotel owners begins with hiring the very best associates with diverse skills and experiences while allowing a focused approach via maintaining a low ratio of associates to assets." Michelle Russo, Founder & CEO, hotelAVE
Providence, R.I. (PRWEB) January 19, 2016
Hotel Asset Value Enhancement (hotelAVE), the largest hospitality asset management and advisory firm entrusted with over $5.5 billion of hotel owner's investments worldwide, has named industry experts Michele Wimpling and Nina Kleiman as executive vice presidents.
Prior to joining hotelAVE, Wimpling served as vice president of real estate and development at FRHI Hotels & Resorts (parent company of Fairmont Hotels & Resorts) where she was responsible for growing the hotel management business in the Americas, as well as maximizing the value of the owned hotel portfolio and acquisitions and sales of global real estate assets. Wimpling is a former certified public accountant who brings over 30 years of both real estate and financial experience to hotelAVE. She has also held positions at Argosy Gaming Company, Jefferson Wells International, Olympus Hospitality Group, Hampstead Group, General Electric Capital Corporation, Ashforth Real Estate Group and KPMG.
Kleiman brings over 30 years of expertise in hotel operations, asset management and acquisitions experience to her newly expanded role, the last five of which have been spent maximizing the value of hotelAVE's lodging portfolio. Prior to joining hotelAVE, she worked with lodging companies LaSalle Hotel Properties and InterContinental Hotels Group PLC, as well as Lehman Brothers and Coopers & Lybrand (now PricewaterhouseCoopers). Kleiman held a variety of hotel operations roles at Westin after graduating from Cornell University's School of Hospitality Administration before earning her Masters of Business Administration from Haas School of Business, University of California Berkeley.
Michelle Russo, hotelAVE founder and CEO, commented, "Delivering real estate value to hotel owners begins with hiring the very best associates with diverse skills and experiences while allowing a focused approach via maintaining a low ratio of associates to assets."
True to her word, Russo has steadily been one of the industry's brightest stars since founding the company in 2003. In 2015, Russo also expanded her staff to include industry veterans Ed Nugent as chief financial officer and Kim Gauthier as senior vice president. The company now has 28 employees and plans to hire an additional seven hospitality industry experts in 2016, continuing its commitment to delivering exceptional asset value enhancement to hotel owners.
About Hotel Asset Value Enhancement (hotelAVE)
Hotel Asset Value Enhancement (hotelAVE) is the largest hospitality asset management firm, with a very successful 10+ year track record in asset management for institutional ownership. Founded in 2003 by one of Lodging Magazine's 2015 Leading Influential Women Michelle Russo, hotelAVE features a 28-member management team consisting of former owners, operators and professional advisors. The firm offers over 360 years of hotel real estate investment, operations and asset management experience. The organization's current asset management portfolio comprises over $5.5 billion, 22,000 rooms and over 30 different hotel operators. hotelAVE also advises hospitality investors on an additional $10 billion annually by providing comprehensive consultancy services for hotel owners during critical phases of asset transition such as: acquisitions, underwriting and due diligence; manager selection and contract negotiation; franchise selection and contract negotiation; development, planning, and repositioning, as well as dispositions. hotelAVE supports clients in Latin America, North America and Europe from its headquarters in Providence, R.I. and its regional offices in New York and Los Angeles.