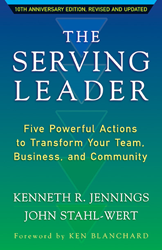 Great organizations are great because they're filled with people who freely choose to do their very best. It's a maddeningly simple concept yet overlooked by many executives."
Lambertville, MI (PRWEB) February 01, 2016
Contrary to popular belief, the most effective leaders don't just stand in front of their people, they stand behind them too.
That's the basis of the effective leadership methodology detailed in the new edition of the landmark leadership book, "The Serving Leader: 5 Powerful Actions to Transform Your Team, Your Business, and Your Community," released today. The 10th anniversary edition of this bestseller is available wherever books are sold.
In an age where immoral leadership is almost commonplace, co-authors Ken Jennings and John Stahl-Wert make the case for an approach to leadership that is both ethical and efficient. They show that leaders and their teams are more successful when they ditch the "anything for the bottom-line" approach for one that inspires greatness by putting the needs of others first. Jennings' and Stahl-Wert's work implementing serving leadership has increased productivity, efficiency, and job satisfaction at organizations such as Merrill Lynch, Caterpillar, and The Cleveland Clinic.
"Companies with Serving Leader-led cultures enjoy market returns well above their peers," said Jennings. "At The Cleveland Clinic, we saw engagement and patient satisfaction measures rise from a lower quartile baseline to exemplary levels."
"Great organizations are great because they're filled with people who freely choose to do their very best. It's a maddeningly simple concept yet overlooked by many executives," added Stahl-Wert. "Our book shows leaders how to earn that kind of commitment."
"The Serving Leader" is a moving fictional story about an estranged son and his dying father that is based on real people and organizations, providing a practical guide for implementing servant leadership in one's own personal life and work. It details the following five actions of a serving leader, outlining a holistic, proven methodology that starts within an individual and reaches beyond to his or her workplace, home, family, and greater community:

Run to great purpose. Empower employees by holding out in front of them a "reason why" that is so inspiring it requires and motivates everybody's best effort.
Upend the pyramid. Spur innovation by keeping egos in check, serving others and inviting everyone to have their say.
Raise the bar. It's human nature to try to live up to what is expected of us so expect a lot and build a culture of high standards.
Blaze the trail. Identify obstacles that stand in the way of performance and clear the pathway to success.
Build on strength. Instead of focusing on weaknesses, arrange team members so each member can contribute what they naturally do best.
This edition features a new foreword by Ken Blanchard, an updated introduction, and an additional chapter updating readers on Mike, the main character, to see what he has learned in the 12 years since he embraced Serving Leadership.
The book, published by Berrett-Koehler, is available at major book retailers including Amazon and Hudson Booksellers. For more information, including a sample chapter, details on Jennings and Stahl-Wert, a white paper on their work with The Cleveland Clinic, advanced praise, press coverage, and purchasing information, visit http://www.theservingleader.com.
About the Authors
Kenneth R. Jennings is founder of Third River Partners, and a bestselling author, speaker, and active consultant helping senior leadership teams adopt a serving-others approach. To view an interview with Ken and Ken Blanchard, click here. For more information about Ken Jennings, visit http://www.3rd-river.com.
John Stahl-Wert is founder of the Center for Serving Leadership, author of eight books on leadership, an in-demand keynote speaker, and leadership coach to executives worldwide. To view an interview with John and Cheryl Bachelder, click here. For more information about John, visit http://www.johnstahlwert.com.
The Serving Leader
By Ken Jennings and John Stahl-Wert
February 2016
Paperback $19.95, 192 pages