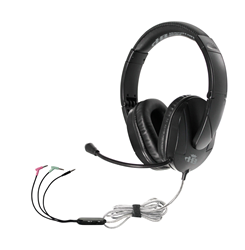 The Trios™ is the only headset you will ever need to connect with any of your devices: old or new, PC or MAC, Chromebooks, tablets, smartphones and media players too!"
New York/New Jersey (PRWEB) January 19, 2016
Today, HamiltonBuhl introduced the Trios™ Multimedia Headset, specially-designed to easily connect to any device, from dual-plug PCs to one-plug Chromebooks, tablets and smartphones, eliminating the need for constant switching of headsets to accommodate multiple devices with different plugs.
"This is yet another industry first from HamiltonBuhl. The Trios™ is the only headset one will ever need to connect with any device: old or new, PC or MAC, Chromebooks, tablets, smartphones and media players too," said Shelly Goldstein, President of HamiltonBuhl.
"Everyone has devices with different headset plug types, but this is especially true for schools, libraries, institutions and many businesses. Schools will often have older along with newer equipment in use, especially with the current trend of one-to-one learning and assigning an iPad to each student," continued Shelly. "Given this, schools need to carry headsets with variety of plugs to accommodate a variety of devices. Not only is this an additional expense, it's also an added burden to manage and keep track of all the plug types needed and all the equipment on hand. Now, the Trios™ from HamiltonBuhl, eliminates all the switching and the additional expense."
The Trios' chew and kink-resistant Dura-Cord™ has been uniquely designed to split into the plugs needed to connect to all devices. This unique design makes switching headsets obsolete, reducing expense as well as equipment administration and oversight.
In addition to the unique tri-plug Dura-Cord™, Trios™ features deluxe over-ear design with soft, leatherette ear cushions which provide excellent noise-isolation, folding headband for easy storage and gooseneck microphone for maximum versatility. This stylish headset delivers superior sound quality and, with just one use, will quickly become the go-to companion for all devices.
The Trios™ from HamiltonBuhl is already in tremendous demand from schools, teachers and educational dealers.
About HamiltonBuhl:
HamiltonBuhl (http://www.HamiltonBuhl.com) is a leader in the design and manufacturing of electronics and presentation equipment for education and industry. From its humble beginnings in 1933 as Hamilton Electronics, to the 2011 merger with Buhl Industries, HamiltonBuhl has grown as an innovator delivering quality, durability and reliability. Always at the forefront, keeping a finger on the pulse of latest innovations, HamiltonBuhl products help facilitate and accelerate the learning process for students of all ages.