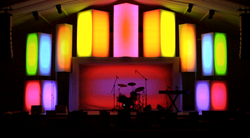 We've got some new concepts ready to display
Chicago, IL (PRWEB) January 19, 2016
Chicago-based video projection mapping company Chicago Projection Mapping is proud to end another year as an industry leader in the field of 3D projection mapping technology. This marks the third year in a row that Chicago Projection Mapping has lead its field in terms of innovation and performance. That's no small feat, as 2015 was a banner year for the projection mapping medium. Indeed, the last twelve months have seen projection mapping displays become staples at conventions, business meetings, conferences, live events, and parties alike.
Many of Chicago Projection Mapping example videos can be viewed their YouTube Channel
Chicago Projection Mapping is a leader in its industry in several important ways. First and foremost, Chicago Projection Mapping has continued to innovate. Whether it's a permanent 3D display or a one-night mapping event, Chicago Projection Mapping has captured the attention of viewers with imaginative content and vibrant displays. The company has also found new ways to moving the industry forward, investing in interactivity, technology, and hardware developments designed to bring projection mapping to the next level.
"As an industry, projection mapping was kind of born of a need to innovate," said Mark Smith, founder and owner of Chicago Projection Mapping. "Everyone wanted to bring entertainment to the next level. The demand for that kind of product—that kind of innovation—has just kept rising. And we expect that to continue in 2016." Smith went on to discuss the variety of Chicago Projection Mapping's projects, from marketing contracts to conference setups, even expanding to include consulting services for other marketing and projection mapping companies.
The possibilities for projection mapping in general are equally limitless in the following year. If 2015 proved anything, it's that video mapping and projection mapping is in demand. The technology has been used by corporations as a way to spice up company meetings. 3D Projection mapping displays have been permanently installed as art pieces in high-end hotel and apartment lobbies. And projection mapping displays are being used by marketers to engage with difficult-to-convert demographics. That 2016 could bring even more invention and innovation is not difficult to imagine, especially for the industry leading team at Chicago Projection Mapping.
"We've got some new concepts ready to display" Smith said. "There are some things we can't wait to show off." Having spent three years at the top, Chicago Projection Mapping knows that to stay a premiere firm in this competitive field, you have to keep moving forward and looking towards the future. If you are interested in contacting Chicago Projeciton Mapping about a project in the Chicago area, you can e. mail them at Info(at)ChicagoProjectionMapping(dot)com.
Main Chicago Offices 630.620.0000
Email us at Info(at)ChicagoProjectionMapping(dot)com
CPM capabilities
3D and 4D Video Projection Mapping Design
Temporary and Permanent Installation
Custom Interactive Design Capabilities
Consultation on All Aspects of Mapping Process
Show Design and Integration
In-House 2D and 3D Animation Team
Asset Reconfiguration for Brand Consistency
Integration with all major video and media formats
Custom Media Servers for flawless operation
Experience with all standard mapping hardware and software
Partnerships with regional and national hardware vendors
On-Site Setup, Mapping, and Event Operation
Remote access and operation for permanent installations
For more information, please visit http://www.ChicagoProjectionMapping.com, or call 630-620-0000.
About Chicago Projection Mapping: Based in Chicago, IL, Chicago Projection Mapping is a full service content creation and 3D projection mapping company, serving the corporate, event, meeting, and convention sectors. For more information, please visit http://www.ChicagoProjectionMapping.com, or call 630-620-0000.